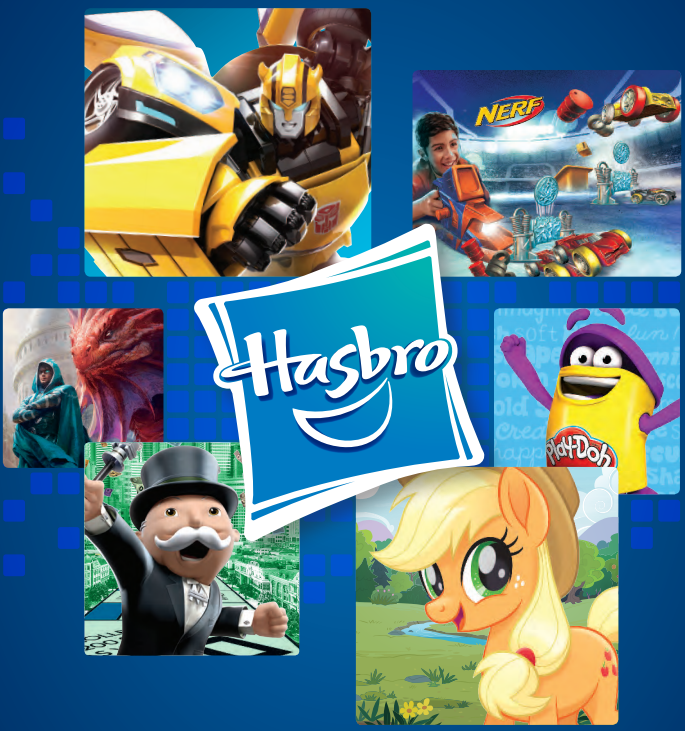 (Source: 2017 Annual Report)
It became official on March 14. Toys "R" US officially initiated the bankruptcy process. For stocks within the toy industry, this was considered a major blow. Mattel (MAT), Hasbro (HAS), JAKKS Pacific (JAKK), among others, had seen their stock price decline for several days prior to the announcement. The question really worth asking is whether this is as serious a matter for these toy companies as the market is making it out to be? I have already made my choice in selecting which toy company I hold in my Accelerating Dividends Portfolio, and that is HAS as I feel that it is the most diversified and better-managed company within its industry. That said, how will the Toys "R" Us bankruptcy affect the company?
Another great year
Hasbro announced its Q4 and FY2017 earnings on February 7. The company reported that net revenues rose 4% to $5.21B, and that revenues grew in all major operating segments (5% in the US and Canada, 2% internationally, and 8% in entertainment and licensing). Furthermore, the franchise brand revenues grew 10%, Hasbro gaming grew 10%, emerging brands grew 2%, but partner brands declined 10%. The adjusted net earnings grew over 22% from the prior year to $5.46. This was over 10% above analysts' estimates. Lastly, the company generated $724.4M in operating cash flows and ended the year with $1.58B in cash and cash equivalents. (Source: Hasbro Q4 report)
Now, the question is, how much will the bankruptcy affect these positive trends going forward?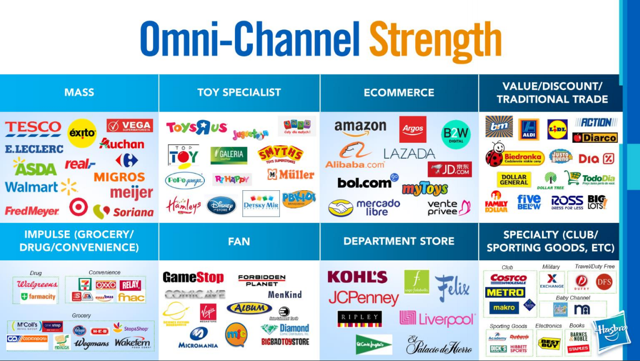 Source: Hasbro Investor Presentation
The above picture shows the many companies that sell HAS products. Did you find where Toys "R" Us was located? No, this isn't a search and find (well, it kind of is), but it raises the point that Toys "R" Us is but one retailer among over 100 companies listed above. However, this one retailer does have a significant impact on revenues. Taken from the company's 2017 annual report:
During 2017, net revenues from our top five customers accounted for approximately 42% of our consolidated global net revenues, including our three largest customers, Wal-Mart Stores (WMT), Toys "R" Us, Inc. and Target Corporation (TGT) who represented 19%, 9% and 9%, respectively, of consolidated global net revenues. In the U.S. and Canada segment, approximately 61% of our net revenues were derived from these top three customers.
Ouch! With that said, WMT derives $989M in sales, followed by $469M for Toys "R" Us and TGT each. What is the projected impact of the bankruptcy? Here is what the company and its CEO have said:
we expect the financial difficulties of Toys "R" Us will negatively impact our sales in 2018, with the greatest amount of that impact likely to be in the first half of 2018 (Source: 2017 annual report)
In the short term, the first couple of quarters in 2018 and certainly the fourth quarter in 2017, it impacted our business. But long term, we don't see the impact. (Source: CEO Brian Goldner Interview)
In summary, there will be short-term pain, but over the long term, this pain will subside. Why is that?
…the greatest amount of that impact likely to be in the first half of 2018, as we right size our inventory with Toys "R" Us and as they close stores. (Italics added by the author; Source: 2017 annual report)
Toys "R" US has been a great partner for us and has grown, but we've also grown our retail footprintWe're making new and differentiated product that goes to a bigger retail footprint around the world, to value stores and dollar stores, to mass retail and, of course, to omni-channel and online. (Source: CEO Brian Goldner Interview II)
Our investment in our global commercial strategy became increasingly important when Toys "R" US filed for Chapter 11 bankruptcy ahead of the 2017 holiday season, and early in 2018 announced it was liquidating its U.S. and U.K. stores. Toys "R" US has been a meaningful part of the toy industry for decades, but the consumer shopping experience is changing. We expect the closure and liquidation of stores to be disruptive in the near term, most notably during 2018, but over the long-term we believe the market and Hasbro will continue to grow. With our global channel strategy and strong brands, we are well positioned to navigate this shift in the retail landscape and continue to profitably grow Hasbro over the long term. (Source: 2017 annual report)
In summary, inventory once held by Toys "R" Us will be redistributed to other channels. HAS also recognized the changing patterns in consumer spending and adjusted accordingly. This appears to be a small disruption but not a lasting damaging impact on sales or growth long term. As Barclay's Felicia Hendrix noted, HAS brands are in "high demand".
I think that one of the important factors being ignored here is the fact that HAS still sells toys elsewhere than Toys "R" Us. Also, since HAS brands are in "high demand", it simply means that shoppers will go to other locations to purchase the same toys. They simply aren't going to drop everything because Toys "R" Us isn't around any longer. As a result, I cannot see $469M in revenue generated from Toys "R" Us not being redistributed to other retailers. What I think the market does not appreciate is the uncertainty of how much of that revenue HAS will recoup simply because other retailers have impacted the margins HAS traditionally received for these toys. For example, WMT is likely to push for lower resale prices which may reduce HAS margins for the same product they would have gotten from Toys "R" Us.
Let's not forget that with the closure of Toys "R" Us, WMT and TGT are going to be competing to gain those customers. It is interesting to note that TGT may be best positioned to profit since 93% of Toys "R" Us stores are located within a 15-minute drive of a TGT. Also, TGT CEO Brian Cornell told analysts last November that the company was "playing to win" in toys. This kind of attention to toys by TGT and possibly WMT and likely Amazon (AMZN) are likely to benefit HAS over the long term and reduce the impact of lost revenue from Toys "R" Us.
Some are questioning how much HAS is going to lose in accounts receivables from Toys "R" Us. Although Toys "R" US has $5B in debt, HAS accounts for only $60M in unsecured claims for payment from them. Morningstar analyst Jaime Katz also noted that the concerns surrounding Toys "R" US are overblown since the company received debtor-in-possession financing to help cover most of its payments to the toy companies. It is unclear just how much HAS could expect to receive, but it does appear that there is the possibility that HAS is not left in the cold.
Is there anything that could possibly offset the lost revenue from Toys "R" Us? First of all, there is tax reform. Take a look at the underlying tax rate of HAS since 2014.
| | | | | |
| --- | --- | --- | --- | --- |
| 2014 | 2015 | 2016 | 2017 | 2018E |
| 26.5% | 26.4% | 24.5% | 19.9% | 15-17% |
Source: Hasbro Investor Presentation
In addition, there is $178M remaining on HAS's share repurchase plan, which based on history, would likely be used in its entirety this year. If the company was to purchase shares today at $85.17, the company could repurchase 2.089M shares reducing the total shares outstanding to 122.950M. This would have increased FY2017 EPS by $0.05. The company also foresees many of the expenses in 2018 remaining similar to FY2017 or decreasing. Some areas that will see increases are product development (which I see as positive) and IT depreciation which will peak in 2018 before it begins to decline in subsequent years. Bad timing but not long lasting.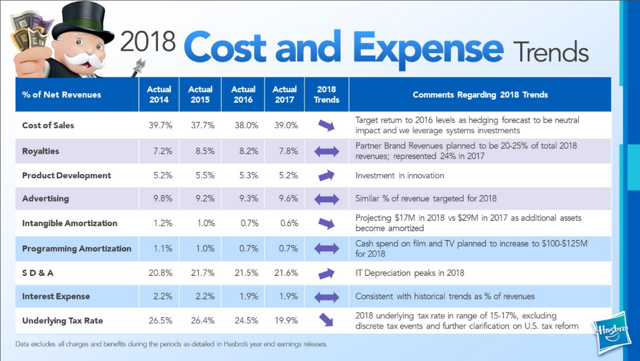 Source: Hasbro Investor Presentation
Lastly, there are many upcoming films that will likely generate interest in toys, apparel, etc. The Black Panther movie released earlier this year was a hit and upcoming Avengers, Transformers, and Spider-Man movies will likely spur sales in the coming quarters.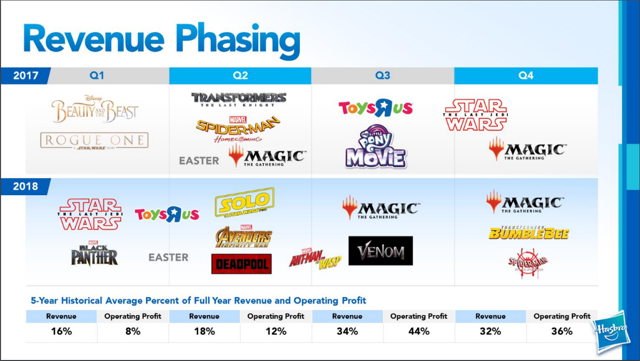 (Source: Investor Presentation)
Conclusion
The market's reaction to the closure of Toys "R" Us and its impact on HAS is overblown, in my opinion. The overreaction, followed by the market's recent volatility, has pushed the company's dividend yield close to 3%, which is very desirable. This is also a company that is increasing its dividend by double digits still! Only time will tell whether the market's pessimism or the company's optimism will triumph, but I am stepping in the company's camp because of its diversification in content, strong brands, growth in markets such as China among other positives. I see the market remaining skeptical until the release of Q1 earnings which may drive the price further down. All I know is that I will be a buyer on dips. Let me know what your thoughts are.
I hope you enjoyed this article. Please consider following me as a Seeking Alpha author by clicking the "Follow" button at the top of the article beside my name Accelerating Dividends if you want to be notified when my future articles are published. Thanks for reading.
Disclosure: I am/we are long HAS.
I wrote this article myself, and it expresses my own opinions. I am not receiving compensation for it (other than from Seeking Alpha). I have no business relationship with any company whose stock is mentioned in this article.