Gold Resource Corporation (GORO) has seen a powerful move off of its $5.00 weekly breakout during a quarter when the mining indexes (GDX) and gold (GLD) have been under pressure. Most importantly, this move has come on the back of strong fundamental developments. The company has received official permits for its Isabella Pearl Project in Nevada, and has now commenced construction for its new Nevada Mine. The mine which is expected to be operational by Q3 of 2019 is set to double the company's annual production, and the project should enjoy strong margins even at a sub $1,300/oz gold price. I remain long the stock from my entry at $4.88 and have taken partial profits, and am raising my stop on the trade to lock in a profit.
As we can see from the yearly chart I shared in my April article "Gold Resource Corporation: Breaking Out", the stock has now cleared its yearly pivot after putting in an "inside year" last year. Inside yearly bars occur when the high and low of the current candle fit inside the range of the previous candle. The current setup is showing an "inside and up" year as we went inside the 2016 range for all of 2017 and now have powered through the 2017 highs as of mid-2018. The inside and up setup is quite rare on larger charts like this and typically is an excellent for a stock. This signal remains valid as long as the share price stays above the 2017 high of $6.27.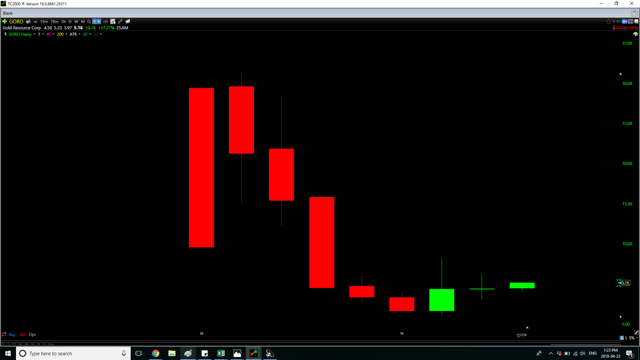 (Source: TC2000.com)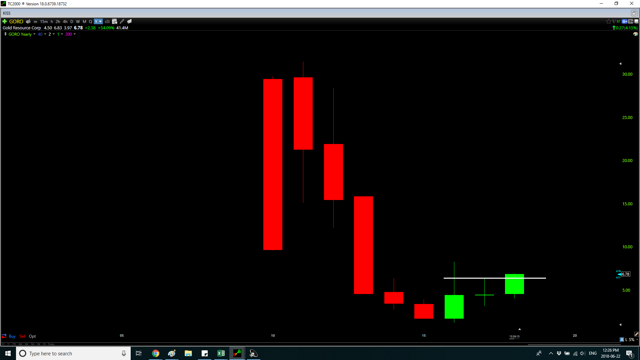 (Source: TC2000.com)
Taking a look at the weekly chart below, the stock has seen a powerful move after reclaiming a level that has been resistance the past couple years. The stock is now up roughly 35% from this breakout level. We can see in the lower chart that the stock was being accumulated at the time of the breakout from the large weekly bars that were above the average weekly volume.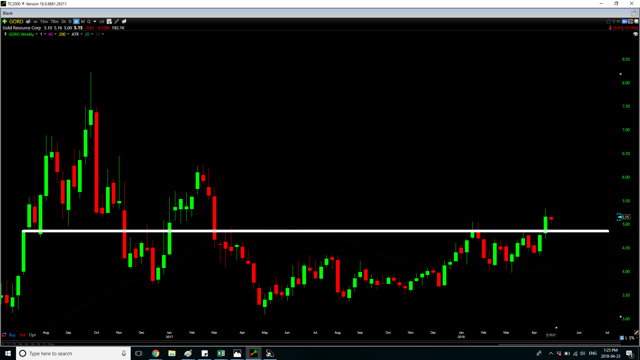 (Source: TC2000.com)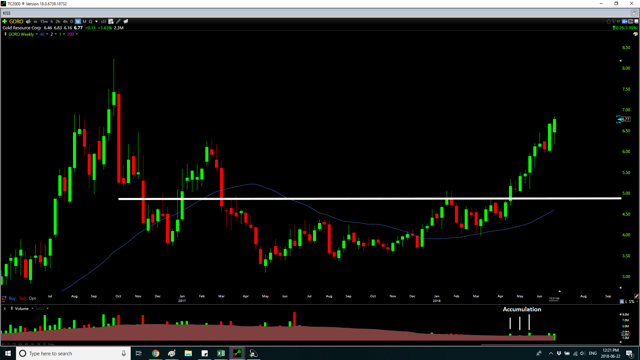 (Source: TC2000.com)
The fact I find most impressive about this breakout for Gold Resource Corporation is the fact that it's seen this relentless rise while the mining indexes and gold have slumped the past couple months. The below chart shows Gold Resource Corporation in the top left corner with the Gold Miners Index (GDX), Gold Juniors Index (GDXJ) and Gold (GLD) in the other charts. As we can see, the miners and gold have all been trending slightly lower, but Gold Resource Corp. has been steadily moving higher. This is a testament to the stock's strength and its position as a leader in the sector. The first tip-off the stock might be a leader was it breaking out of a weekly base while the mining indexes made zero progress in April. The stock has now proven my hunch correct as it's completely shrugged off any weakness in the sector.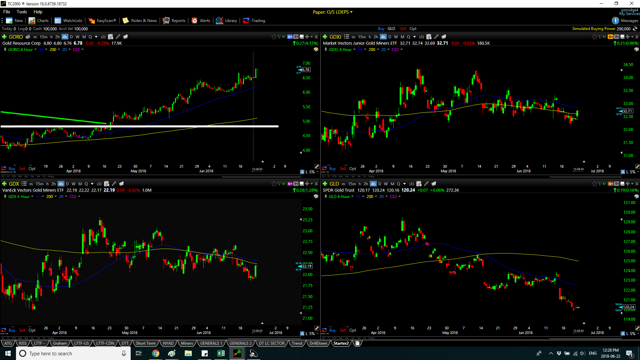 (Source: TC2000.com)
Often the technicals will give you clues about what's happening behind the scenes before the fundamentals are known to everyone. This is why I find it silly when some investors say they think technicals are voodoo and suggest they will only trade off fundamentals. An investor that trades strictly off the fundamentals would not get the early "tip-off" that something special was happening behind the scenes with Gold Resource Corporation as there was no news to justify this 2-year breakout in mid-April. While there's no question that the reserve increase at Isabella Pearl was positive, I do not believe this was the catalyst for the large move. This is because the reserve increase was meaningless without permits allowing the company to actually get the ore out of the ground and profit from it. I believe smart money was likely starting to accumulate the stock as they felt that the permits were on the horizon. The significant buying volume showed up the week of April 20th, but the permits did not arrive for another month when the stock was already trading 10% higher.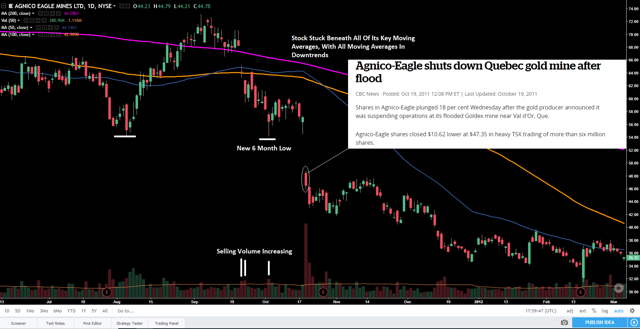 (Source: TradingView.com)
I came to this revelation nearly a decade ago when I watched Agnico Eagle (AEM) tumble nearly 20% on heavy volume after they were forced to shut their Goldex Mine down due to flooding, resulting in a write-down of $170 million US. Those in the stock might have figured they got hit with bad luck, and would claim this was an unforeseen event that saw the stock slide nearly 50% over the subsequent few months. Whether the news was leaked or not that the recent rock failure had caused flooding, heavy selling was coming into the stock as it made a new 6-month low over a week prior to the release that saw the stock tumble 20%. Leaked or not, the technicals were tipping you off that trouble was on the horizon. We saw the exact opposite with Gold Resource Corporation two months ago as the stock was being accumulated during a period of stagnation for nearly all other miners. If one were ignorant to the fundamentals, this would have been missed and only known after the fact of the permits being granted.
So how do Gold Resource Corporation's fundamentals look since my last article?
The company has started construction as of last week at its Isabella Pearl Project and expects construction to be done by this time next year. This means that by late Q3 and likely early Q4 of 2019, the company will be enjoying a double in its annual production. The great news about this is that Isabella Pearl is much more stable than their Oaxaca Mine which is an epithermal deposit meaning it has less uniform grades and is less predictable. The company's Isabella Pearl Project should see very low all-in sustaining cash costs of sub $700/oz as it has four huge benefits:
the project is high-grade for an open-pit project (2.0+ grams per tonne gold) the project is near surface meaning there is low-strip the project is amenable to heap-leach which can be profitable even at grades that are only 1/4 of Isabella Pearl's grades the capex for the project is mostly up front and there is very little sustaining capital needed
Based on all of these factors, I think the project could turn out to have better than the $650 cash costs the company is projecting. After adding in other costs, the company should enjoy a margin of $500/oz on all of their Isabella Pearl ounces. Based on nearly 30,000 ounces a year of production in the first year, this should add significantly to their top and bottom lines.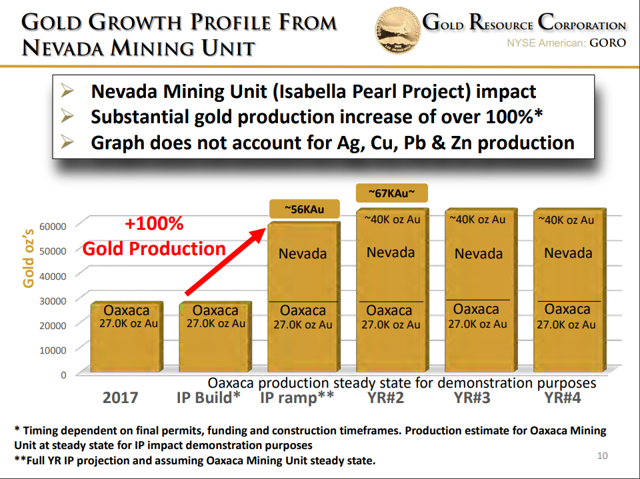 (Source: Gold Resource Corporation Presentation)
The other benefit to Isabella Pearl coming online is that zinc prices have started to normalize after what's been a near parabolic rally. With nearly 1/3 of the company's revenue coming from zinc and prices coming down over the past quarter, Isabella Pearl will help to pick up some of this slack (assuming zinc prices do not return to their highs).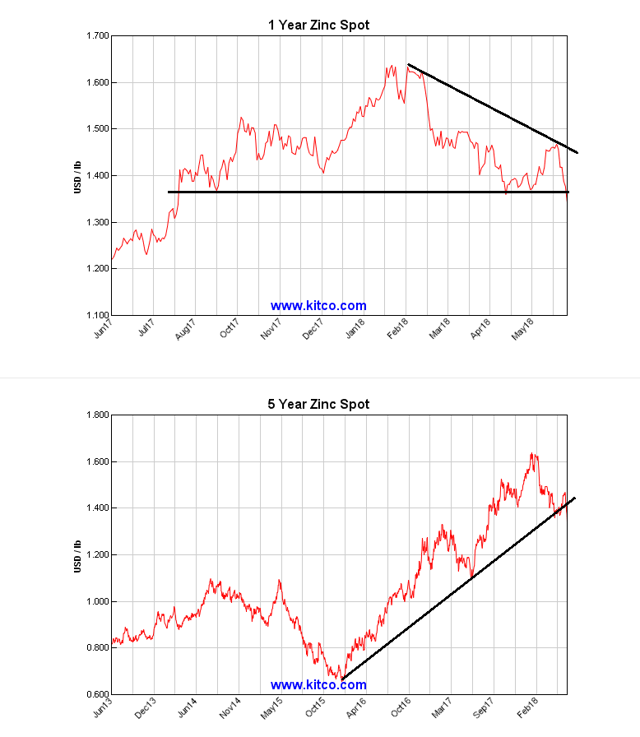 (Kitco.com)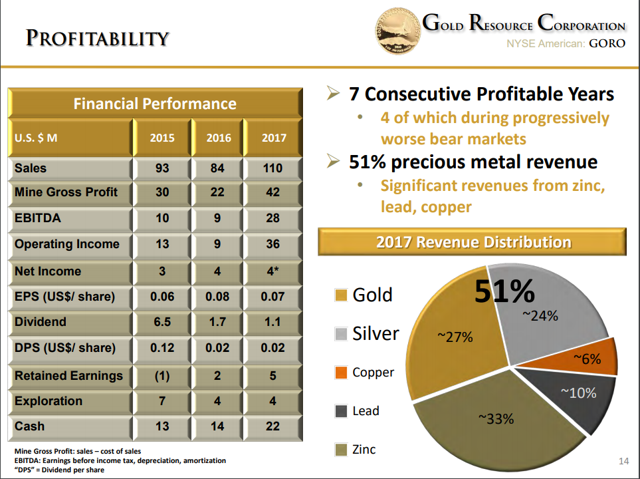 (Source: Gold Resource Corporation Presentation)
Based on the fundamentals alone, I believe that Gold Resource Corporation has a strong runway for growth and we've likely not seen the highs for the stock yet. Having said that, I am using the technicals to dictate my trading decisions as I believe they always trump the fundamentals.
I am now up over 35% on my position bought at $4.88 in mid-April and have already taken partial profits on the position. To make sure that I lock in a gain on the position, I have moved my trailing stop on the position up to the $5.55 level going forward. This means that as long as the stock can remain above its 50-day moving average and not break the late May swing low, I will be staying with this position. I do not care what the fundamentals are for a company, I will never let a 35% profit turn into less than a 10% winner at the minimum. This is why I've placed a trailing stop to lock in a roughly 15% gain on the position (shown in below chart). If the stock continues to trend higher I can gradually trail my stop higher, and if the stock breaks down I will make sure to profit from at least one third of this move.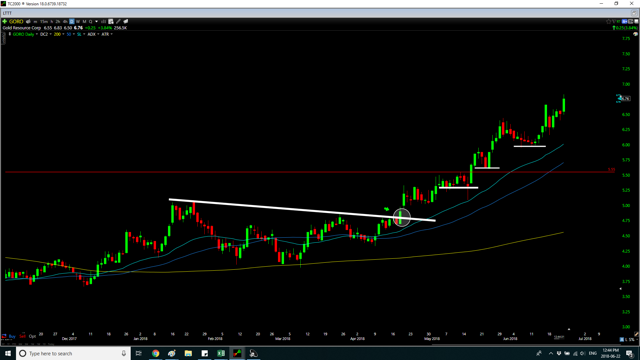 (Source: TC2000.com)
Gold Resource Corporation is a clear leader in the gold sector so I am sticking with my position and have no intention to sell any more at this time. The company is set to graduate to a 50,000+ ounce producer by next Fall and this is a significant milestone for a company that's been written off as a company to avoid by another author in mid-2017. The company is firing on all cylinders, has exploration upside with their other Nevada deposits and expects to be able to internally fund the mine with no dilution. I remain long Gold Resource Corporation with a stop at $5.55 and will remain in the stock as long as my trailing stop is not hit.
Disclosure: I am/we are long GORO.
I wrote this article myself, and it expresses my own opinions. I am not receiving compensation for it (other than from Seeking Alpha). I have no business relationship with any company whose stock is mentioned in this article.
Additional disclosure: I would love to know what companies you believe are superior long ideas that are underrated above $100 million market capitalizations in the precious metals space. My articles get plenty of comments, and I'm always open to new ideas and food for thought. If you like this article and hope to see more like it in the future, check the little "thumbs up" at the end of the article. In addition, please feel free to follow me by clicking on my name next to my avatar at the top of this article.