Geron (GERN) is a tiny biotech, <$1 billion market cap, with an oversized history and an undersized pipeline. Its CEO has managed to steer the company through the wilderness within clear sight of the promised land. He expects that by Q3 2018, Johnson & Johnson's (JNJ) subsidiary Janssen will make a long-awaited continuation decision as to whether it will proceed with development of Geron's sole pipeline asset, imetelstat.
This one decision carries huge significance for Geron investors: some long-suffering souls have been waiting decades for Geron to pan out.
A battle over the likely fate of Geron is raging between bulls and bears. There is no love lost between these two contestants. The thesis of this article is that a middle ground exists in which one can operate with reasonable comfort and hope to make a significant shorter-term return on your investment.
Short bears, Alpha Exposure (AE) and Adam Feurstein (AF) in the near corner, take the ~50垄 position.
Let me confess at the outset, I am a Seeking Alpha loyalist. I have not signed up to read AF on the Stat+ service. Accordingly, I will focus on AE's four postings in order of publication date: 1. "Geron: Imetelstat's History Of Deaths And Safety Issues" (2/09/18), 2. "Imetelstat Might Be Brought Down By Hy's Law" (2/20/18), 3."Geron's Negative Imetelstat Data Has Been Misinterpreted By Investors" (3/22/18), and most recently, 4. "We Believe Janssen Has Separated From Geron. Just Awaiting Divorce Papers" (4/26/18).
Judging by comments, and there are huge comment streams to all four articles, many in the SA community are hostile to bearish presentations on Geron. Geron's stock price has had a rough ride.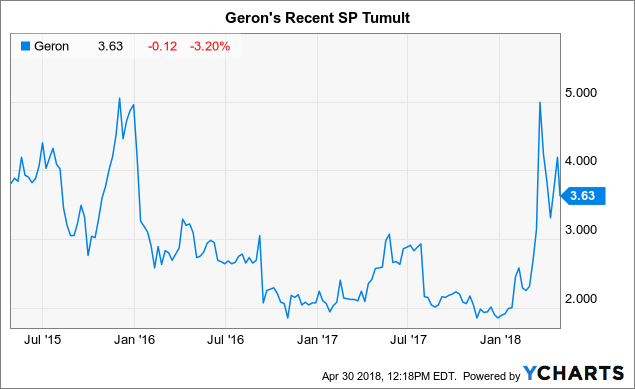 GERN data by YCharts
After ending 2017 with a series of <$2.00 prints, Geron continued struggling during much of January 2018. Mirabile dictu, on January 29, 2018, Geron broke out to $2.40! It held and even built on its gains up to >$2.60 for another week+, until… until AE's article 1 hit the silicon. After Article 1 was published on 2/9/18, Geron's stock immediately reverted to the penalty box. It tested $2.00 and held.
AE's bear article 1 reflected a mirror image of MTB's 1/12/18 bull article "The Toxicity Of Geron's Imetelstat May Lead To Accelerated FDA Approval." Instead of MTB's focus on the advantages of toxicity in killing cancer cells, AE combed through Geron's 10-Q, picking out adverse impacts from toxicity. AE found and excerpted the following in his 2/09/18 article #1.
In the 1Q 2017 10-Q, Geron released that both IMbark and IMerge trials have seen patients deaths and that Imetelstat was potentially at risk of another clinical hold. The 10-Q states in the Risk Factors section (emphasis added):
"In addition, adverse events previously observed in the ET Trial and the Pilot Study, such as LFT abnormalities, profound and prolonged thrombocytopenia and neutropenia, bleeding events, and other safety issues, including deaths, have also been observed by Janssen in IMbark and IMerge. If patients in current or potential future clinical trials of Imetelstat experience similar or more severe adverse events, including LFT abnormalities, or severe hepatic, hemorrhagic, or new or unusual adverse events, the INDs for imetelstat may again be placed on clinical hold, as it was in March 2014, and Janssen may be delayed or precluded from further developing imetelstat."
AE's article #1 then closed with an affront to Geron's many loyal investors as excerpted below: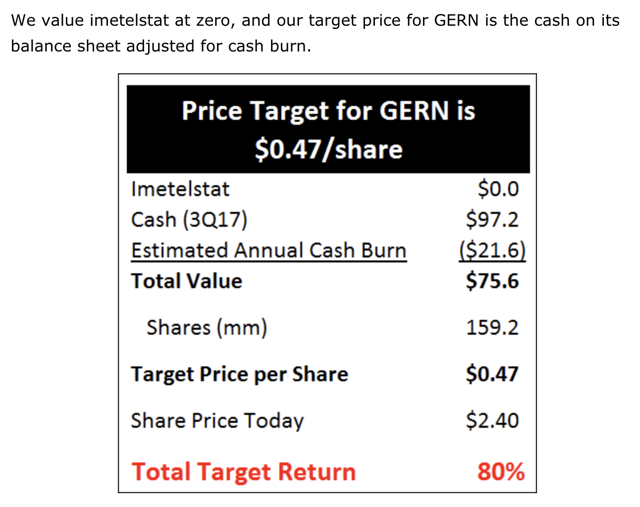 You have never read such invective as has been directed at AE and AF on account of their short-oriented articles. There are many examples of same, but I thought the following comment to AE's #1 Geron article by Anonymous Wizard was one of the more comprehensive:
This [AE's article 1] is apparently a criminal organization effort and the SEC and FBI should be on this. It's not just Geron but across the market. SA needs to take this article down really and make a statement that rebukes this criminal article. We can all contact the attorneys on this case that are mentioned to have them dig deeper.
Over the balance of 2018 to date, Geron bulls and bears played cat and mouse, parry, thrust, parry, thrust. The mouse kept getting bolder and bolder. Geron's stock bested the devil's own $6.66 on 3/22/18. Sloppy and inconclusive trading ensued until AF's fateful article of 3/27/18, "The top-performing biotech stock this year has surged on flimsy data."
At that point the sloppy price action continued with a decidedly downward tilt. Geron traded </>$3.50 for several weeks. All in the period of six months, Geron traded from $1.76 to $6.68, an updraft of >270%. Then it dropped to $3.26, >51% off its high. Traders caught in the undertow are unhappy for sure. Those riding the waves, mindful of the eddies, are doing A-OK.
As for the meat to the ursine story, it is an acquired taste that I have wholly failed to acquire. Geron has its risks, however, I do not think that either AE or AF has shown any clever insight into these risks. I will explain further as we move ahead.
Long bulls, MedTechBio (MTB) and Invest With Logic (IWL), keep their focus skyward.
While AE and AF attack, they do not simply have their way with Geron. MTB has been a Geron stalwart since 2015.
His first titular Geron bouquet occurred in December 2017, with the punchy but ineffective: "Geron: It's Breakout Time" (12/6/17). Since then we have seen eight positive MTB Geron articles, including the effusive: "Geron's Imetelstat Hits A Grand Slam, But The Rally Is Just Beginning" (3/21/18). My personal favorite in terms of ingenuity is "Little Geron May Soon Be Nipping At The Heels Of Celgene And Incyte" (1/29/18).
I hope never to be accused of violating the logical orthodoxy which intones that "correlation does not imply causation." Still yet, when they fit nicely enough, one can hardly be castigated for pointing out a particular correlation.
At this point let me remind readers that January 29, 2018, was the date of MTB's provocatively titled article suggesting that Geron would soon be "Nipping At The Heels" of two large cap pharma players. At the time Geron was trading ~$2.00. Its ~160 million shares gave it a market cap of <$1/3 billion. Geron was and is a mere infant compared to >$12 billion market cap Incyte (NASDAQ:INCY) and barely noticeable to the larger large cap Regeneron (NASDAQ:REGN), then sporting a market cap approaching $50 billion.
The premise of MTB's referenced article was that Geron's imetelstat was setting up to play David to Celgene's (NASDAQ:CELG) Goliath. Beneath a reprint of a Renaissance masterpiece depicting David delivering a coup de grace to Goliath, MTB hypothesized as follows:
Geron's Imetelstat appears to be about twice as effective as Celgene's Revlimid [later stated as providing 64% of Celgene sales] in providing transfusion independence for Myelodysplastic Syndrome, "MDS," patients. Imetelstat also has shown signs of disease modification and remissions in Myelofibrosis, "MF," whereas Fedratinib, the lead drug candidate of Celgene's recently announced $2.4B acquisition of Impact Biomedicines, appears to be another "me too" Jak-2 Inhibitor with modestly better safety profile than Incyte's (INCY) Jakafi.
In this scenario, "soon" is obviously in the eye of the beholder. There were skeptics, but the bulk of the 900+ comments were appreciative of MTB on a job well done. More than one exhorted MTB to increase his production of Geron articles so that the price might continue rising. No one suggested that MTB was wrongfully promoting the stock.
IWL's contributions to the bull case were later in time. His two forays are: 1. "The Logical Argument For Geron" (4/17/18) and 2. "Don't Be Surprised When Johnson & Johnson Acquires Geron Within A Year" (4/25/18). Both provide support for a bull thesis.
IWL's article 2 closes with the glorious supposition:
If a buyout were to occur, I believe it could become a 10 bagger at today's prices [$3.95-$4.24].
This article focuses on Geron as a plump steer expected in the stockyards this fall.
There is an awful lot about Geron that is simply unknowable at the moment. Bulls can make assumptions and spin tales, shorts can do the same. The stock will flutter until we learn more about Janssen's intentions and imetelstat's trial results.
AE has gone forth boldly to set his price target on Geron of 47垄 as shown in his article #1 above. IWL has gone on record with ~$40 price tag. MTB's vision is far less austere. In his conclusion to his 1/29/18 article cited above, he visualizes a potential for Geron to scale the mighty mountain implicit in assuming a Celgene+Incyte level market cap:
If all goes well with these trials [IMbark and IMerge], a big chunk of the two biotech giants' market cap may soon be enjoyed by Geron investors.
So which is Geron to be, penny stock or large cap? I am sure that I do not know where Geron will be trading over the long haul. Indeed. I expect that it will be acquired, most likely by Jonson & Johnson, at some point in the next few years. I do, however, have a strong opinion about this coming Q3 2018.
My crystal ball insists that Geron will make a strong charge to ~$10 per share sometime between now and September 30, 2018. This is not mere guesswork. Geron has told us that we should expect a continuation decision from Janssen by Q3 2018.
Contrary to AE's assertions in his article 4 cited above, Janssen is not about to divorce Geron. Rather, when asked during Johnson & Johnson's Q1 2018 earnings CC by Geoff Meacham as to its strategy around its pipeline and acquisitions, Johnson & Johnson's EVP and CFO Caruso assured Meacham that its pipeline was strong. In this regard he specifically referenced eight new drug applications for products having billion-dollar potential planned by 2021.
Caruso's response ties in directly with Johnson & Johnson's Q1 2018 pipeline slide (relevant extracts below):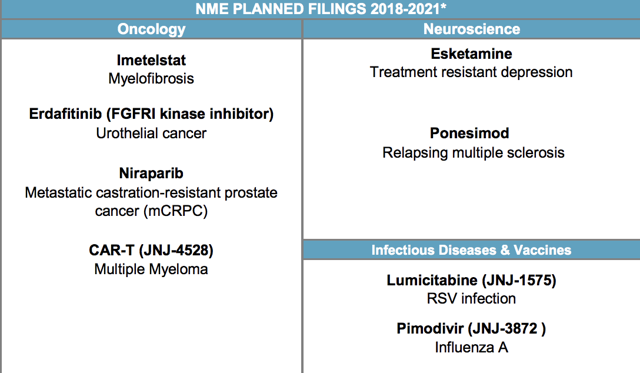 Caruso's response references eight drugs set for filing. Johnson & Johnson's 4/18/18 slide references eight planned NME filings by 2021. The first one listed is imetelstat for Myelofibrosis. I take this as meaning that Johnson & Johnson has specific intent of following through on expectations around issuing its continuation decision.
That explains half of my crystal prognostication. What about the ~$10 price target? Is it simply blue sky? I'll let readers and commenters hash that one out.
My thinking is based on Geron's most recent stock action. It has moved from ~$2.00 to $6.68 on enthusiasm over its near approaching prospects with Johnson & Johnson. It has settled back to the ~$4.00 area as questions have arisen. Often biotechs disappoint at the announcement of expected good news, proving the old adage, "buy the rumour, sell the news."
In Geron's case, thanks in no small part to AE and AF, the market is obviously conflicted about whether or not a continuation decision will occur. For this reason I am expecting it to run well beyond its previous high of $6.68.
According to latest available data short interest is still high, >30 million shares. This should give it some lift-off in the presence of unexpected favorable news.
Conclusion
I trust that readers will appreciate that Geron's future is highly uncertain. There are those who believe it has virtually unlimited potential. There are those who believe the exact opposite.
I have taken the opinion that Geron offers an exceptional prospect for a near-term doubling with a further prospect of additional gains beyond that. That is enough for me to give Geron top place in my speculative pharma portfolio.
I am looking forward to the next few quarters. Questions for resolution will include:
Will Johnson & Johnson act on a continuation decision in Q3, as forecast? Assuming it does favorably, as I do, will Geron then opt-in or opt-out. Assuming Geron opts-in, as I do, will Geron then seek significant new cash either in the debt or secondary markets? Once Johnson & Johnson issues a positive continuation decision, what types of FDA trial enhancements will it seek? Once Johnson & Johnson issues its continuation decision, what additional imetelstat clinical trials will it and Geron pursue?
Tickets to the Geron show are trading <$4.00 each. I consider them as an excellent value.
Disclosure: I am/we are long GERN, JNJ.
I wrote this article myself, and it expresses my own opinions. I am not receiving compensation for it (other than from Seeking Alpha). I have no business relationship with any company whose stock is mentioned in this article.
Additional disclosure: I may buy or sell shares in Geron or JNJ over the next 72 hours.