Prologue:
There are a number of interesting elements contained in the recent Frontier Communication's (FTR) earnings report on which I could be reporting at a later point.
However, there were two key elements that arose above these other more interesting, but less critical, details on which I could be reporting. These two elements are revenue (rate of revenue decline) and EBITDA margin. I highlighted these two elements in a recent article, "Can Frontier Communications Generate Enough Cash Through 2023 to Pay Upcoming Debt Maturities?", as they are, in my opinion, the two key drivers which will determine over the long run whether FTR will be able to redeem upcoming debt maturities.
After nearly a year and a half of publishing articles of this author reflected what revenue and EBITDA "would" look like, we have now arrived at a point where we can begin to determine whether those forecasts would be on-target or would turn out to be overly optimistic. In turn, as the ability of FTR to survive as an enterprise (i.e., to repay debts as they come due) depend critically on these two elements, the key outcome on which everyone is interested hinges on these two factors (since other potential variables tend not to vary much for FTR).
So, will the revenue and EBITDA margin demonstrated for Q1'18 put FTR on a glide path to survival or bankruptcy?
Revenue Trends:
Over a year ago on March 27, 2017 ("Frontier Communications Is Not Going to Zero – Here's Why"), I published an article with an observation that the level of revenue decline experienced after the acquisition (2.5-4%) was higher than one would expect from historical data, found here: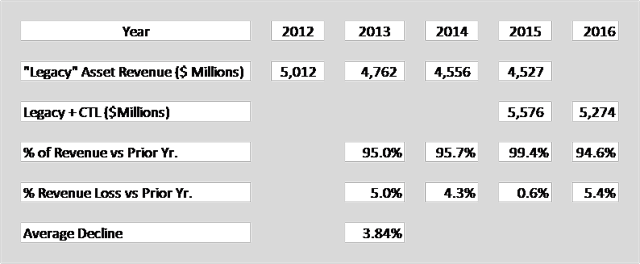 (Table created by author using data from 2012-2016 Frontier Annual Reports found on the Frontier Communications investor relation website ("the Frontier IR website"))
This chart provided a historical argument that the revenue declines experienced immediately after the CTF acquisition ("post-CTF") were high relative to historical experience. The argument in the article was that revenue declines experienced immediately after the CTF acquisition were temporary. Furthermore, it was argued in that and successive articles that revenue decline would moderate once a reasonable time had passed and disruption caused by the acquisition had been addressed. However, this argument was not met with universal support; indeed, substantial skepticism was expressed about this view.
In a following article (Frontier Communications – Part 2: Why I Am Still Buying the Preferred Shares), I reiterated the argument that disruption caused by the CTF acquisition had exaggerated the revenue decline and that it would moderate in Q4'17:
"Key premises (of the updated model) include:
Use the historical rate of decline has been about 4% per year or 1% per quarter. This is the underlying rate of revenue loss that Frontier will incur over the next five years, as it has for the past five years, for comparable legacy assets. Superimposed upon this historical revenue loss is an additional revenue loss penalty over a typical period of time to recognize inefficiencies and difficulties caused by the acquisition of the CTF assets. The CTF acquisition is premised by the author to take six quarters to assimilate (through 3Q'17) and even longer to fully exploit the ability to generate additional synergies, thereby saving money (to be delivered in 3Q'18). These estimates are based upon what has been observed as a typical time to integrate an acquisition. As such, after a typical, reasonable period used to integrate the Verizon (VZ) acquisition (after the end of the 3Q) during which time revenue will decline by 2.5% (comparable to the 1Q'17), a revenue decline back at the previous historical trend of 1% per quarter or 4% per year will be used."
Again, this premise was met with skepticism at the time. Given that the first three quarters post-CTF had shown revenue declines averaging above 3% declines, one could reasonably argue at that time that higher revenue declines could continue since that appeared to be the "new normal". There was little confidence that Frontier could stabilize operations and return to a historical level of performance.
Skeptics and critics were invoking continued revenue declines which, if they would have continued unabated, would have put tremendous pressure on the company and may have triggered the much-heralded bankruptcy filing that was so often predicted. However, this did not happen.
As you can now see in the charts below, the forecasts offered in this series of articles (achieving the historical rate of 1%) was not quite met in Q4'17 (even if progress was shown) but has now been delivered in Q1'18, as reported recently by Frontier management.
The following chart was published in a more recent review of the Q4'17 earnings report ("Frontier Communications: What Does Q4 2017 Revenue and Earnings Tell Us?"):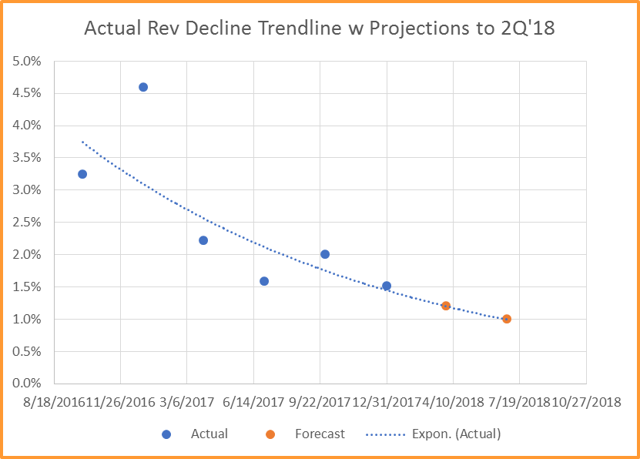 (Graph created by author using 10-Q and 8-K reports on the specific quarters, found on the Frontier IR website)
In this chart, actual data points are shown in blue, the linear least squares line resulting from the actual data is shown in the dotted blue line and upcoming forecasted revenue decline points are shown in orange for the upcoming two quarters. I have now lengthened the forecast period to include all of 2018 here: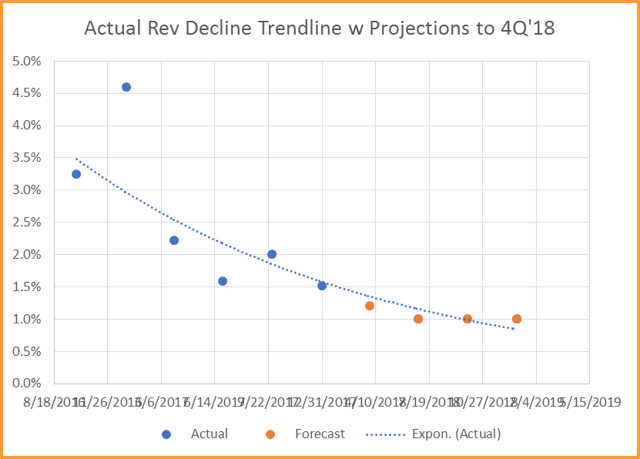 (Graph created by author using 10-Q and 8-K reports on the specific quarters, found on the Frontier IR website)
With the Q1'18 earnings report, we found that Frontier had indeed reached a quarter over quarter revenue decline of about 1%, now hovering at the pre-CTF level, with this graph showing both the forecasted (in orange) and actual (in blue) levels for Q1: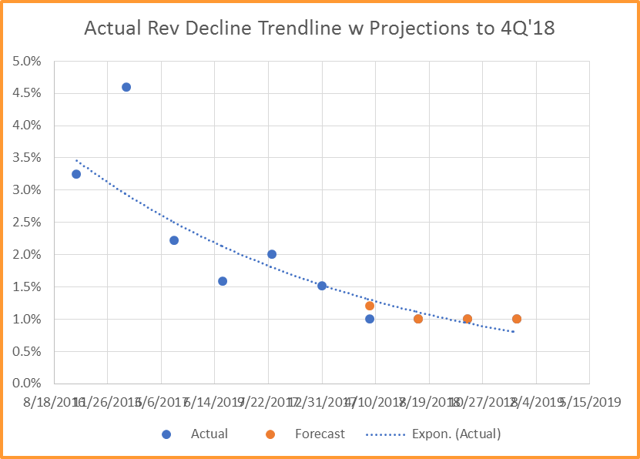 (Graph created by author using 10-Q and 8-K reports on the specific quarters, found on the Frontier IR website).
We now have seven data points that are showing a more definitive trend than earlier articles. Revenue decline has indeed achieved the 1% QoQ revenue decline asymptote, as predicted a year ago (even if it arrived a quarter late). While I would be more comfortable with yet more data points, the trend continues to be consistent with that originally developed and reported last August ("Frontier Communications: Where Is Revenue Headed?"), at that time having three fewer points available. This demonstration of a 1% decline QoQ represents an "entitlement" that Frontier should now be able to deliver consistently on average, quarter over quarter, as a minimum standard of performance.
In reality, the least squares trend is showing some degree of continued improvement to even lower decline levels. However, until I can see revenue trends at lower levels being delivered by Frontier management, I'm from Missouri on using an even lower for revenue decline than the historical trend (i.e., more positive or lower decline assumptions) until it is demonstrated. It could well happen and I suspect that the capex spent by Frontier is targeting yet better revenue trends, but I will continue to use the historical level until I see a different level of performance being demonstrated consistently.
I now hope that the commentary on Frontier Communications revenue expectations can begin to align around more realistic expectations, consistent on what FTR is actually delivering. Some discussion focuses on continued, higher declines, but successive quarterly reports suggest that these higher levels are not re-appearing. Indeed, Citi looked at deteriorating revenue as a cause for downgrading FTR even as their revenue declines appear by this analysis to be moderating, not accelerating. Anything can happen, but the trend in force appears to be lower, not higher, revenue declines on a glide path towards 1% QoQ (or less).
Conclusion: Most probable QoQ revenue decline level is 1% (or less) until new data warrants a different premise.
EBITDA Margin:
Let me emphasize once again that I will be reporting on EBITDA, not adjusted EBITDA. Even as my numbers are not consistent with the numbers reported by Frontier management in their report, I am employing FTR filings to report the "unadulterated' EBITDA contained in their SEC filings.
To remind readers why I do this, the purpose of the model is primarily to calculate the future cash flow in "excess" of what the company was using for capital expenditures. The case is much simpler now that the dividend has been eliminated. The so-called "adjusted" EBITDA incorporates back in some expenditures, cash or non-cash, that the company uses for other purposes in order to focus investor attention on the capability of the underlying business. However, I want to calculate how much cash Frontier will have in the future to redeem debt, so cash used for other purposes, whether used in the core business or whether used to support the pension plan, is not available for debt redemption and is therefore not counted (obviously). I am not suggesting that Frontier is doing anything inappropriate, but their purpose and mine are not completely identical.
FTR reported $871 in EBITDA (not the adjusted EBITDA number). At $2,199 in revenue, this represents a 39.6% EBITDA margin. In turn, this EBITDA Margin approaches the middle set of cases at 40% EBITDA Margin in the earlier article on "Can Frontier Generate Enough Cash…?".
The model appears at this point to be tracking revenue and EBITDA reasonably well at this point, within a few percentage points. Future quarterly reports will confirm or dispute that assessment going forward. In addition, the model now appears to be erring on the lower side, tracking but understating actual delivered results. As a consequence, this would suggest that forecasted future performance would be reasonably close to modeled results or higher.
Conclusion: Trajectory of EBITDA Margin appears to approach an asymptote between 40% and 41.5%, incorporating the last contribution of the $350M cost reduction program to a greater or lesser degree.
Implications for Cash Flow and Ability to Redeem Debt Going Forward to 2023:
In the recent article referenced above, "Can Frontier Communications Generate Enough Cash", I offered a number of scenarios, varying revenue decline and EBITDA Margin, to illustrate Frontier Communications ability to redeem upcoming debt maturities. Some pessimistic and some optimistic cases for Frontier were presented, with 9 cases presented and the outcomes illustrated.
One of those nine cases was the so-called Core Premise Case (Case 5), with the reference to a "core" case suggesting that this is the most probable case at this point, in my view. In this case, Frontier Communications is premised to deliver 1% QoQ revenue decline and 40% EBITDA margin, what the company essentially delivered in Q1'18 (a bit better on revenue, a bit less on EBITDA margin) and is shown here: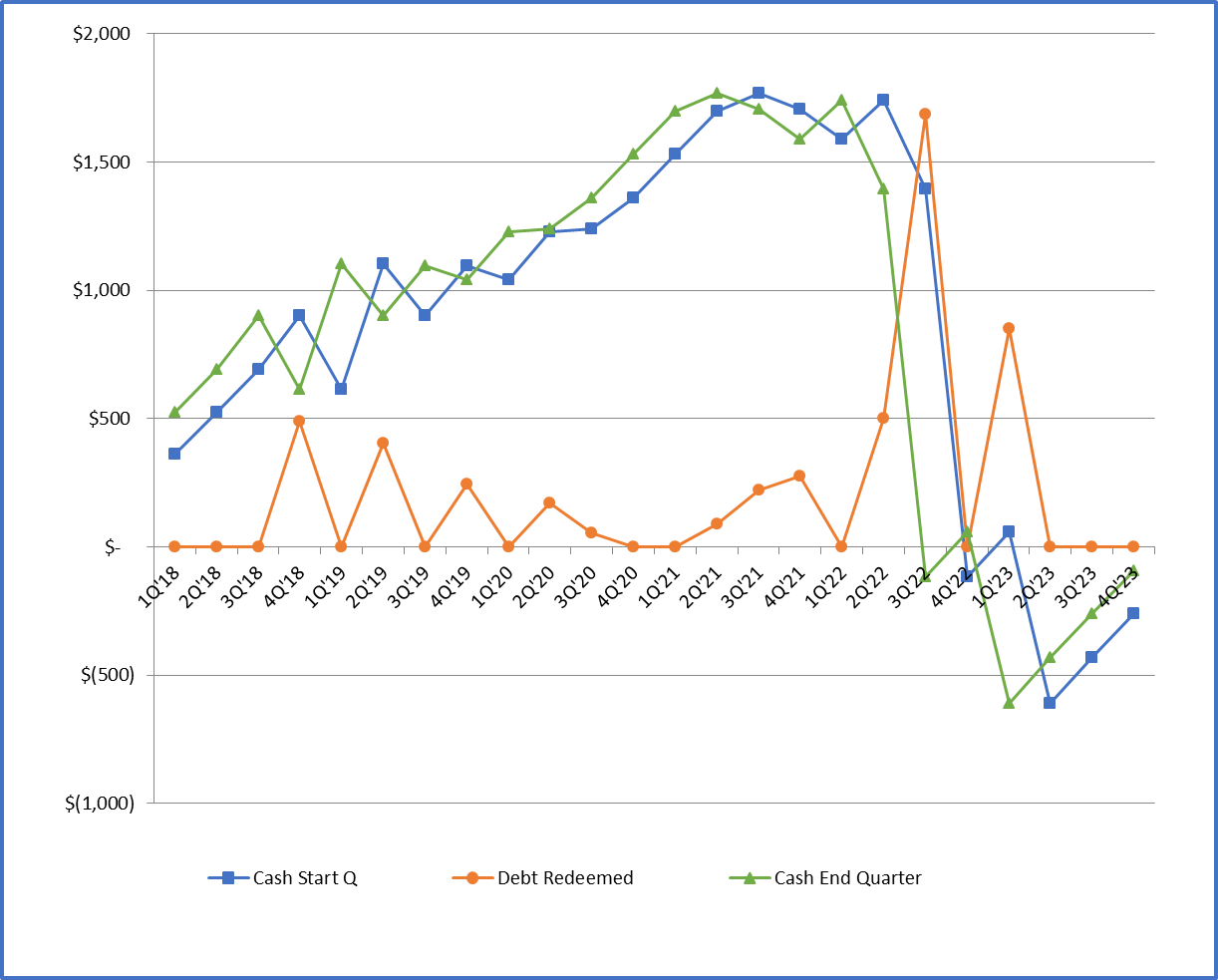 (Graph created by author using FTR filing data obtained from the FTR IR website and using a proprietary model for forecasting Frontier's cash flow)
In this analysis, cumulative cash generated by Frontier is calculated, using a 1% QoQ revenue decline and 40% EBITDA margin (as they demonstrated in the Q1'18 report). Debt maturities are premised to be redeemed as they come due. As one can see, Frontier essentially "runs the table" on redeeming debt maturities through 2021. While the 2022 debt maturities can be redeemed, including one of the two massive debt "towers", the company must use the revolver (not yet used to that point) to cover the shortfall until additional cash flows could be used to replenish the treasury. Note that the shortfall did not exceed the $850M capacity of that revolver. The company "makes it" into Jan. 2024 with minimal cash, but slimmed down with nearly $4,990B in debt having been redeemed. On a per-share basis (with 106M outstanding, 80,367K from Q1 report and 25,667K to be created upon conversion), that is a reduction of liabilities on the balance sheet (or an increase in net assets) of $47/common share, selling currently at about $9.25/share.
In addition, there remains $75M in additional cost reduction remaining to be delivered to achieve the full $350M in cost reductions as committed by leadership. If $41M of the remaining $75M of cost reduction flows through to improve EBITDA, the margin would increase to the 41.5% postulated in the previous, referenced article as a reasonable asymptote for EBITDA margin. In that case (Case 6), the ability to redeem debt would look like this (as reported):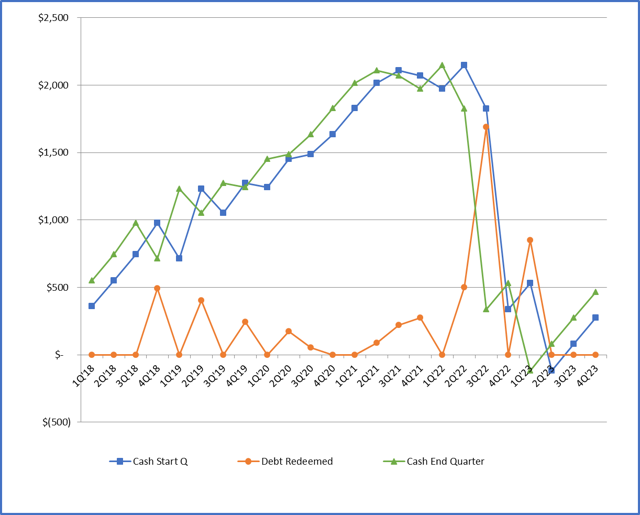 In this case, the $4,990 in debt due over the next five years (excluding one secured tranche which I had premised would be rolled to focus on reducing unsecured debt) would be redeemed and Frontier would roll into 2024 with $500M in cash reserves (plus the revolver fully available). At some point, a less levered Frontier with significant liquid reserves and a substantial ability to generate more would begin to be viewed by the market as "not going to zero".
One last note before concluding: throughout this period, Frontier is projected to spend, in round numbers, about $6B in capex between Jan 2018 and Dec 2023. Is it asking so much that this $6B in capex, equal to about a third of current net PPE, could bend the revenue line from a 1% quarterly revenue decline to flat or 0% decline? I am not premising growth, just slower declines to stable revenue. In this case, 40% and 41.5% EBITDA margin cases look like this (Case 8 and 9 from the previous, referenced article):
Case 8 – 40% EBITDA, stable revenue after 2020: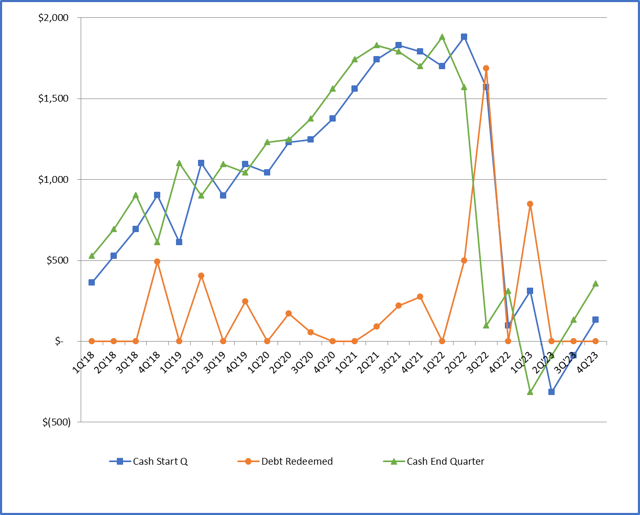 And Case 9 – 41.5% EBITDA and stable revenue after 2020: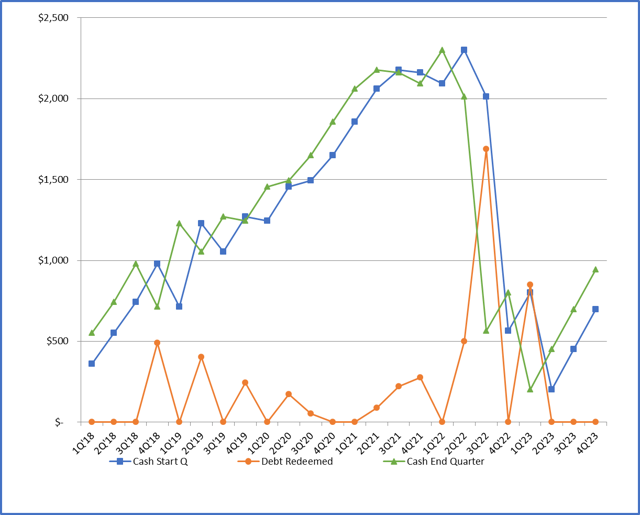 In both Cases 8 and 9, Frontier is able to redeem all upcoming debt maturities completely (again, excepting one secured debt tranche that I expect to be rolled) with sizable margins of safety. The company starts out 2024 with $5B less debt (adding $5B more nets assets to the balance sheet), having added another $6B more assets through capital expenditures and with a reasonable to strong cash position in Jan. 2024. In round numbers, this $11B increase in assets represents $104 in asset increases per $9.25 FTR share.
Alternatively, consider a modest EV/EBITDA valuation increase, due to reduced fear of going to zero, of 6 on a $3.0B EBITDA (at that point) and you get a common share valuation of $57/share ($3.0 * 6 = $18B minus $12B in debt equals $6B divided by 0.106B shares = about $57/share). Even at 5.1, the valuation would still be about $41/common share, factors higher than the current price. A variety of ways to value Frontier all show valuation in Jan. 2024 of FTR, using premises in this article, factors higher than the $9.25/share valuation current applied to this name. Removing the fear of going to zero will allow the valuation to move significantly higher. Just saying, a value of $57/share in Jan. 2024 with a $9.25/share market value today will deliver about 39% annual return between now and the end of 2023. Heads I lose $9.25, tails I gain about $48/share.
Trend analysis suggests that the actual, future results on Frontier will be bounded by these four cases (revenue decline between -1% and 0%, EBITDA margin between 40% and 41.5%). All of these modeled cases show that Frontier "makes it" into 2024, with more or less of a margin of safety and with cash position starting 2024 at higher or lower levels, depending upon the specific case. However, all of the boundary cases show reasonable to very high probabilities of survival, somewhat at odds with mainstream thinking, even at this point (e.g., the recent Citi downgrade).
Summary & Conclusions: The forecasted claim, made by his author a year ago, that QoQ revenue decline would abate to -1%, has now come to pass with the Q1 revenue result. Frontier has now demonstrated an "entitlement" of a lower, 1% QoQ revenue decline going forward. Frontier continues to make progress on the $350M cost reduction program, even if only a portion of that cost reduction program is flowing through to EBITDA. However, even if only about half of the cost reduction program is consumed by other costs, securing $41M in net cost reduction out of the remaining $75M of remaining cost reductions in the program would result in a 41.5% EBITDA margin, resulting in very strong cash flow going forward that ensures that Frontier can manage upcoming debt maturities with internally generated cash through 2023. Continued predictions by some commentators that FTR will indeed end up in a bankruptcy filing over the next few years will require a substantial change in the trends for either revenue decline or EBITDA margin. This might include a cavalier approach by management for the redemption of debt or failure to deliver NET cost reduction for the final tranche of the $350M cost reduction program due in Q2'18. Anything can happen and a large, sudden departure from current trends could result in an inability to redeem debt. However, if FTR simply continues on the current trend, not requiring any heroic improvement (which would still be welcomed, but is not necessary), then the odds of Frontier Communications to run the table and redeem debt maturities over the next five years using internally generated cash appear from this analysis to be high and growing. It is incumbent upon those now making claims of impending bankruptcy to identify which trend will change drastically enough to result in a different outcome. Based Upon the Latest Quarterly Report, What is the Owl Doing with the Frontier Position?:
Based upon prevailing trends, I continue to hold my entire Frontier position in FTRPR and plan to do so too and through conversion of the preferred into common shares. This was my recommendation to other adventurous value investors in my first article (at much higher prices), continued to be my recommendation throughout this series of articles over the past 17 months and remains both what I recommend to others and what I plan to do myself.
In my case, this is not a casual investment. At current valuations, my FTRPR position represents about 35% of my total assets in my non-retirement risk account, which is 50% of my total non-retirement, investment assets (with the other 50% being in very boring income assets which move very little). Throw in a sizable position in PIY, an exchange-traded trust holding debt from Frontier (issued by a predecessor company) and my total commitment to Frontier nears 50% of my risk account.
I have no idea how FTRPR or FTR will trade next week, next month or throughout 2018. However, prevailing trends are moving towards a point where the market will recognize, at some point, both that FTR is not going to zero (will be able to redeem maturities over the short- to intermediate-term) and that the cash flow will continue to create wealth for investors over the long run. Currently, the market is not recognizing that and continues to press down the value of the stock, evidenced by continued high short interest.
'In the short run, the market is a voting machine. In the long run, it is a weighing machine", says Warren Buffett and I believe that there will ultimately be no better example than Frontier Communications common shares to illustrate this point.
Disclaimer: No guarantees or representations are made. The Owl is not a registered investment adviser and does not provide specific investment advice. The information is for informational purposes only. You should always consult an investment adviser.
Disclosure: I am/we are long FTRPR, PIY.
I wrote this article myself, and it expresses my own opinions. I am not receiving compensation for it (other than from Seeking Alpha). I have no business relationship with any company whose stock is mentioned in this article.