The turnaround in watchmaker Fossil Group (FOSL) has arrived. The company's smartwatch business is finally ramping within the burgeoning Internet-of-Things (IoT) and wearables markets, and offsetting weakness in the company's traditional watch business. Consequently, FOSL stock is now up 140% year-to-date, making it one of the market's top performers in 2018. But the stock still trades at under $20, versus a five-year high of over $130, leaving bulls to think that there is still a ton of room left in this turnaround.
Are they right? We think so. The company has now reported two strong quarters in a row, both of which underscore that smartwatch strength will offset traditional watch weakness over the next several years. Consequently, we see FOSL stock heading materially higher during that stretch.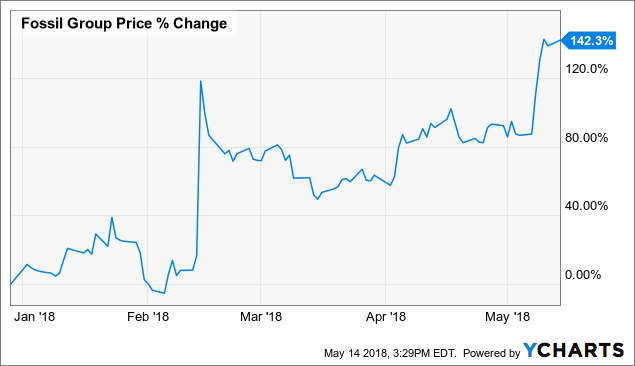 FOSL data by YCharts
The core of the turnaround in FOSL stock is quite simple. The company fell victim to secular changes in the watch market, as consumers stopped buying traditional watches and started buying smartwatches. FOSL was slow to pivot its business to adjust to this secular change, but eventually they did. FOSL started pumping a bunch of money into developing a line of smartwatches that were more relevant to today's consumers. It took awhile for these smartwatches to catch on, but now they have, and FOSL's results are turning around.
This will continue because FOSL specializes in an area of the market that isn't dominated by Apple (AAPL) and other tech giants. That area is the convergence of fashion and utility. Smartwatches, as most consumers think of them, have an entirely different look than traditional watches, but there's a whole class of consumers out there who value the traditional watch aesthetic. That's why a part of the wearables market that is exploding right now is the hybrid watch, which is the industry term for smartwatch functionality with a traditional watch look. FOSL, as the king of traditional watches, is naturally set to be a huge player in this hyper-growth hybrid watch market.
Of course, growth in the hybrid watch market comes at the expense of growth in the traditional watch market. Thus, for FOSL, traditional watch declines will persist alongside hybrid watch growth. But the numbers are starting to show that an inflection point is here. Retail comparable sales in the Americas were up 12% last quarter, led by 97% growth in the smartwatch business and 50% growth in DTC. More importantly, smartwatch sales comprised 20% of overall sales, while margins in the smartwatch business improved dramatically.
Over the next several years, this is what we believe will happen:
Hybrid smartwatches will go mainstream as smartwatch functionality converges on traditional watch style, and Apple Watch fatigue kicks in (unlike the smartphone market, we do not think everyone will want to have the same smartwatch because watches have long been a unique fashion piece). Fossil will sell a ton of hybrid smartwatches over the next several years as market demand grows. Those hybrid smartwatch gains will more than offset traditional watch declines due to smartwatch innovation expanding the addressable market of watch buyers. Revenue growth will be positive over the next several years. Improved profitability in the smartwatch business will drive improved profitability throughout FOSL's entire business.
Therefore, over the next several years, we see FOSL as a company with both positive revenue growth and improving profitability. FOSL stock simply isn't priced for that outlook at current levels. This is a $19 stock, but the company used to make around $8 in earnings per share. It is highly unlikely that the company returns to that $8 earnings base considering a permanently lower sales base (trailing twelve-month revenues are roughly 20% off their 2015 peak and won't get back to peak levels because the smartwatch market has brought with it new competitors like Apple).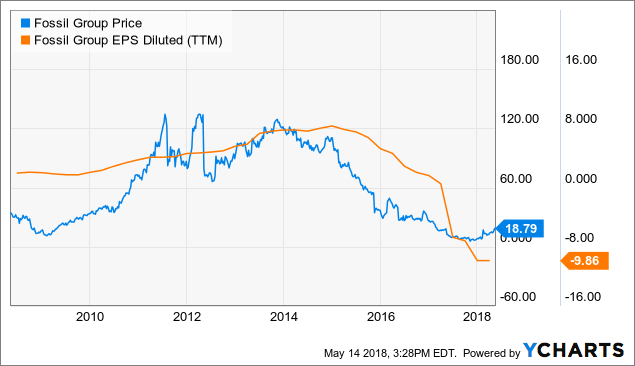 FOSL data by YCharts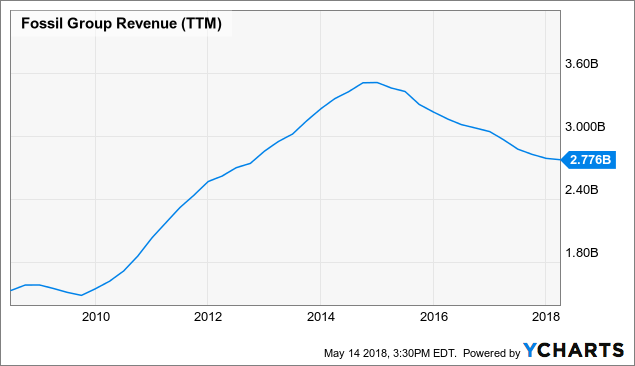 FOSL Revenue (TTM) data by YCharts
Nonetheless, revenues should grow from here and profitability should improve back to near peak levels as the smartwatch business scales. That's why we believe this company make at least $3 in earnings per share in five years (see the detailed analysis here). Even a conservative multiple of just 10-times forward earnings implies a four-year forward price target of $30.
Altogether, the FOSL turnaround is here, and we think that the turnaround still has a ways to go as the company's hybrid watch business scales and continues to offset declines in traditional watches.
Disclosure: I am/we are long FOSL, AAPL.
I wrote this article myself, and it expresses my own opinions. I am not receiving compensation for it (other than from Seeking Alpha). I have no business relationship with any company whose stock is mentioned in this article.