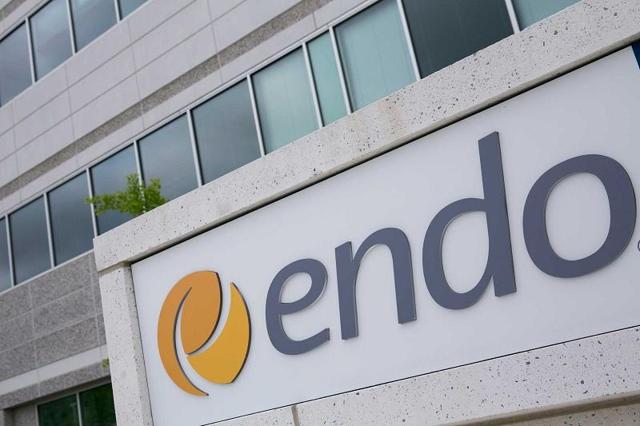 Endo Pharmaceuticals (ENDP) delivered a revenue and earnings beat in Q1. The company is in the middle of a war over rising drug prices, and exploding prescriptions for opioids. The company's revenues are in free fall as it tamps down sales of opioids and pain-related drugs, and the diminution in pricing power rationalizes it North America generics segment.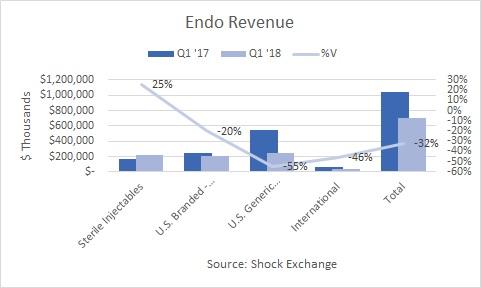 Q1 total revenue fell 32% Y/Y. The larges decline came within the U.S. Generic Pharmaceuticals segment, which fell off by 55%. The segment if comprised of a portfolio of products that are generic versions of branded products, are distributed primarily through the same wholesalers, generally have no intellectual property protection and are sold within the U.S. In Q1 2017 combined sales of ezetimibe tablets and quetiapine ER tablets made up 19% of consolidated total revenue. Endo lost temporary marketing exclusivity for these products in Q2 2017, which exacerbated the revenue decline.
With revenue of $249 million U.S. Generic Pharmaceuticals is still Endo's largest segment at 36% of total revenue. The diminution in North America generics prices been consistent among other generic drug makers. It will likely continue as the FDA is bringing new drugs to market faster than in previous years. I assumed U.S. Generic Pharmaceuticals would eventually be an anchor for the company. That has yet to materialize.
The second-largest segment is Sterile Injectables (31% of total revenue), which includes Adrenalin and Vasostrict (polypeptide hormone). Revenue from Sterile Injectables grew 25% Y/Y and management expects it to grow in the low double-digits for the rest of the year. U.S. Branded – Special segment, is the third-largest segment and includes the company's pain related drugs. This segment fell 20% Y/Y as the company took the opioid Opana off the market.
A silver lining is that core specialty products (including Xiaflex and Supprelin) made up about 55% of the total U.S. Branded – Specialty segment. They actually grew 7% Y/Y. If bulls are looking for a moat, it will likely come from this core group of products and Sterile Injectables. Total revenue could actually bottom next quarter, and make way for growth from core products going forward.
High Debt Load Remains Problematic
Endo continues to cut costs amid its revenue slide. This is commendable. Q1 2018 SG&A and R&D were a combined $205 million, down 7% Y/Y. EBITDA margin was 40%, slightly down from 42% in the year earlier period. The margin erosion was very small given the 32% decline in revenue. Cost-cutting and the ability to products will higher gross margins were key.
That said, Endo's $8.2 billion debt load is still a cause for concern. Debt is at 7.3x run-rate EBITDA. The company could potentially grow EBITDA as core products sound promising. Added scale should also equate to higher margins. The good news for longs is that Endo had free cash flow of over $30 million, and cash on hand of $1.3 billion. As long as the company is not at risk of running out of cash then it could keep hope alive.
Conclusion
ENDP's high debt load and lack of a moat make the stock the sell.
Disclosure: I/we have no positions in any stocks mentioned, and no plans to initiate any positions within the next 72 hours.
I wrote this article myself, and it expresses my own opinions. I am not receiving compensation for it (other than from Seeking Alpha). I have no business relationship with any company whose stock is mentioned in this article.