Titans of industry like General Electric Company (NYSE:GE) or International Business Machines Corp. (NYSE:IBM) are rarely described as sexy. Pioneering, yes, and enduring, without question. But the aforementioned label is mostly reserved for the exciting innovators in the here and now — think Tesla Motors Inc (NASDAQ:TSLA) or Amazon.com, Inc. (NASDAQ:AMZN).


Source: Mike Mozart via Flickr
Multinational telecommunications giant AT&T Inc. (NYSE:T) would like to change those assumptions, but will their efforts translate to investor profitability?
At surface level, you have to love the enthusiasm for AT&T to capture the core Millennial market. The most obvious manifestation of their endeavors is "Lily," the sales representative character featured in the popular commercials. Immediately following the commercial's launch, actress Milana Vayntrub became America's new "It girl," rivaling the character "Flo" from the quirky Progressive Insurance commercials.
AT&T wanted to portray their products in a "persuasive, transparent and believable way" — and all indications suggest a resounding success.
Another bid to boost both street cred and market value for AT&T stock is Taylor Swift Now — a partnership with the pop star featuring exclusive content via the company's DirecTV Now service. With the mere mention of Swift generating millions of views and plenty of engagement, the partnership should lift the telecomm giant above the competitive fray.
The 10 Best Stocks to Buy for 2017
AT&T stock has gained over 5% in the markets since the launch of Taylor Swift Now.
AT&T is Still the King of Dividends
No one questions the preeminent status of T stock, and its willingness to adapt to change is definitely a positive.
As InvestorPlace contributor Dana Blankenhorn rightfully points out, the telecomm provider is a favorite among long-haul investors for its steady passive income. By picking up AT&T stock right now, investors can receive roughly a 4.6% dividend yield.
More importantly, this isn't a fly-by-night operation designed to lure people in with outrageously high yields.
In fact, one of the more noteworthy attributes of T stock is the consistency of payouts. The dividends have held true even in trying times, such as the tech bubble or the 2008 financial crisis. Thanks to its massive balance sheet that carries asset values in excess of the annual GDP of small countries, and a robust operating cash flow, AT&T stock continues to reward the faithful.
That's the distinguishing factor separating it from many other dividend stocks.
Because of its wealth of resources, T stock leverages the power of a 100% fiber network. As long as you live anywhere in the U.S., AT&T can reach out and touch you with an array of wireless and TV services. Not only does this provide a stable platform for ongoing sales, it will be very difficult and time consuming for competitors to replicate.
Like it or not, AT&T is here to stay.
Next Page
For such an old company — its origins go back into the late nineteenth century — AT&T is rather aggressive and savvy. The most conspicuous example is the company's acquisition of the aforementioned DirecTV, which gets them into the streaming content business.
In addition, the telecomm firm is making inroads into cloud services, which might raise eyebrows at Microsoft Corporation (NASDAQ:MSFT).
Passive Income Isn't Enough for T Stock Buyers
With all these things considered, is AT&T stock a compelling buy? Not necessarily. If a place to park your money while making passive revenue is the primary goal, then T stock is a solid choice. But parking is about the best you can expect at this juncture, and there's a whole lot of worse things that can happen.
IPO Playbook Editor Tom Taulli lists out a series of contrasts to the bullish argument, which I highly recommend.
One of his points that resonated strongly is the risk in timing. AT&T made a huge gamble on Time Warner Inc (NYSE:TWX). If it works, great. If it doesn't, and "cash flows contract, the debt load could become a problem. It's also important to note that the U.S. has not had a recession since the financial crisis of 2008. So it does seem reasonable that there will be slowdown at some point, perhaps within the next few year years."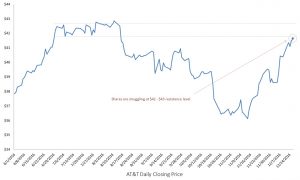 Click to Enlarge The technical charts for AT&T stock align with Taulli's warning. After charging 15% since the middle of November, momentum for T stock waned recently. Interestingly, the deceleration occurred at a price point near — but not quite reaching — the highs of this year. Proponents might argue that the Donald Trump-fueled rally will push AT&T shares past this resistance level. However, I'm not too convinced.
AT&T Stock Faces Risky Markets
Where T stock made its money was in the 1980s and 1990s. As a hulking institution today, its job today is maintenance, not growth. And how much growth should investors expect in a competitive and saturated market?
Cisco Systems, Inc. (CSCO) Stock Will Have a Breakout Year in 2017
Furthermore, the current political environment makes T stock rather risky from a capital valuation perspective. Key interest rates have moved substantially higher since the 2016 election, and President-elect Trump is more hawkish than dovish. Expect more of the same throughout his administration.
That spells trouble for AT&T stock. Not WorldCom trouble, mind you, but enough to make investors question the purpose of buying T stock in the first place. After all, U.S. Treasuries are virtually risk-free. And no matter how great of a company AT&T is, it doesn't have the full backing of the most powerful nation on earth.
As of this writing, Josh Enomoto did not hold a position in any of the aforementioned securities.
More From InvestorPlace 10 High-Risk, High-Reward Stocks to Buy for 2017 The 12 Best Fidelity 401k Funds to Own