Continental Resources, Inc. (NYSE:CLR) has taken great advantage of the shrinking WTI-Bakken differential. Roughly 60% of the upstream company's current production base comes from its operations in the Dakotas and Montana, which primarily is represented by its Bakken/Three-Forks oil production in North Dakota. By fetching a price for its oil production that is much closer to WTI, Continental Resources was able to generate just over $200 million in free cash flow last quarter. Let's take a look at how Continental Resources is making the most of the ongoing recovery in the oil industry.
Debt reduction made possible by FCF
Management was smart and put Continental's free cash flow towards debt reduction by paying down the company's revolving credit line. Continental didn't have any borrowings on its $1.5 billion credit line as of the end of April (given in an IR presentation).
At the end of 2017, Continental had $6.351 billion in gross long-term debt which fell by $190 million at the end of March. The goal is to bring that burden below $6 billion by the end of this quarter or next. That completes Continental's initial debt reduction objective, and by the end of 2019, the company plans to reduce that further. Management commented:
"This free cash flow combined with any potential divestiture proceeds should allow us to achieve even our long-term debt target of $5 billion in 2019."
Due to a combination of factors, namely higher WTI prices, cost reductions, and a tame capex budget, Continental Resources went from basically breaking even on a cash flow basis (ex-divestment proceeds) to generating around $1 billion in annual FCF as things stand today. The company noted:
"You may recall that our 2018 guidance was for us to generate $800 million to $900 million in free cash flow at a $60 WTI during the year. However, as prices have strengthened even further, our estimate is now around $1 billion of free cash flow, assuming commodity prices continue to hold at or near the current levels."

Source: Continental Resource
Pipeline boost oil realizations
In the past, non-core asset sales were leveraged as a way to both raise cash and high-grade its asset base, but that program has its limits. Higher realized prices for its oil sales are key.
Continental's average realized oil price in Q1 2017 was $44.69. That jumped to $51.16 in Q4 2017 and $58.98 in Q1 2018. Part of this is simply the upward movement in WTI as Continental Resources doesn't hedge its expected oil sales, but there is more than that at play here.
Company-wide, the firm expects its realized oil price to come in $3.50-4.50/barrel below WTI this year. Last quarter, Continental's realized oil price was $3.91/barrel below WTI. For reference, that differential averaged $7.33/barrel in 2016 and $5.50/barrel last year. Here is why that is moving in the right direction.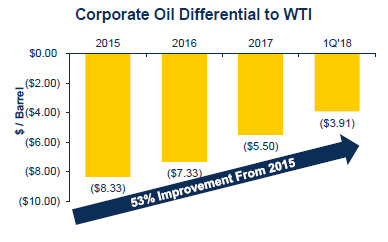 Source: Continental Resources, Inc.
Back in 2015, on top of grappling with plummeting oil prices, upstream players in North Dakota were getting $10/barrel less for their crude production than oil supplies sold in Cushing, Oklahoma. The reason largely had to do with limited pipeline takeaway capacity.
This prompted Energy Transfer Partners L.P. (ETP) to charge ahead with the Bakken Pipeline Project, which really are two long-haul oil pipeline developments rolled into one bigger project. After the ~2,000 mile endeavor was completed and brought online in the middle of last year, the WTI-Bakken differential was cut in half versus 2016 levels. Keep in mind that the Bakken Pipeline can transport over half a million barrels per day out of the region and towards buyers along the Gulf Coast or the Midwest.
There are a few different ways to view the Bakken differential. Some prefer comparing the price of oil supplies in Clearbrook, MN, to the WTI benchmark, while others prefer the Platts assessment which ascertains the price of oil being delivered into terminals (that have rail or rail/pipeline access) in North Dakota.
When Continental Resources touts the "Bakken Oil Differential to WTI" falling from an average of $9.21/barrel in 2015 to $4.31/barrel in Q1 2018, it is likely that is using the Platts assessment gauge. The futures curve indicates that Clearbrook oil supplies will sell around $1-2/barrel below WTI for the foreseeable future. Continental's management team expects the Bakken oil differential to stay at Q1 levels throughout 2018.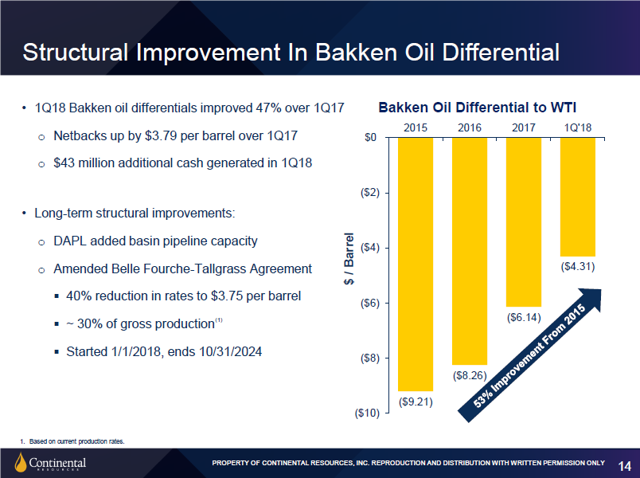 Source: Continental Resources
New pipeline agreement
A recent pipeline agreement will help Continental maintain its gains while its transportation costs move lower. Back at the end of 2017, Continental Resources entered into an agreement with Belle Fourche Pipeline Company and Tallgrass Energy Partners LP (TEP) that extended their TDAs (Throughput and Deficiency Agreements) that covered both the Belle Fourche Pipeline and the Pony Express Pipeline. That agreement now runs through October 2024 versus October 2019 previously.
The Belle Fourche Pipeline carries crude down from North Dakota to Wyoming, where it is then shipped along the Pony Express Pipeline to Cushing, Oklahoma. For crude that comes into the system through the Williston Basin origin point, Continental Resources now pays $3.75/barrel to ship that oil to Cushing. Investors should note that is 40% less per barrel than it was paying previously, highlighting the very favorable impact this deal will have on Continental going forward.
For the midstream firms, they profit off of knowing that there will still be adequate barrels to transport over the coming years in light of the increased competition from Energy Transfer's Bakken Pipeline. Most likely, the reduced transportation costs are a product of the Bakken Pipeline system coming online. The Pony Express Pipeline wasn't being fully utilized as noted in the press release, with roughly 75% of its capacity fully contracted out.
Continental Resources' management team commented:
"We expect our Bakken differentials to remain in this range throughout the year with some seasonal fluctuations. The improved differential is driven by added pipeline takeaway capacity and renegotiated contracts that lowered our transportation costs for dedicated barrels by about 40% to $3.75 per barrel. These dedicated barrels represent around 30% of our current Bakken production and are subject to a contract that became effective January 1, 2018 and expires October 2024."
Final thoughts
Continental Resources took advantage of an improving situation the right way by growing its free cash flow generation and cutting debt. Management is being fiscally prudent at a time when irrational exuberance over rallying oil prices can tempt upstream producers to make poor capital allocation decisions that don't grow shareholder value. Smaller interest expenses and a better risk profile are worth a lot more than an unjustified share buyback program, especially when interest rates are on the rise and oil prices could tank in the future. Thanks for reading.
Disclosure: I/we have no positions in any stocks mentioned, and no plans to initiate any positions within the next 72 hours.
I wrote this article myself, and it expresses my own opinions. I am not receiving compensation for it (other than from Seeking Alpha). I have no business relationship with any company whose stock is mentioned in this article.