Over the past twelve months, the shares of Entravision Communications Corp. (EVC) are down about 22%. This put the company on my radar. In my view, the shares are reasonably priced at these levels, and investors would be wise to buy in. I'll go through my reasoning by reviewing the key growth driver here, and by looking at the financial history. I'll also forecast price based on a conservative dividend growth scenario, and I'll conclude by looking at the valuation. Although there are some issues (as in all investments), I think the risk-reward is worth it.
Growth Driver
Before getting into a discussion of the business itself, it would be wise to look at the source of growth here. In my view, the primary growth driver here relates quite obviously to the growth and economic dynamism of the Latino population in the United States. As of 2016, the Latino population reached approximately 58 million people, and this population has been largely responsible for demographic growth in the United States. In addition to raw numbers, the various Latino communities in the United States share some qualities that make them ideal media consumers. Consider the following from Making America Rich Again: The Latino Effect on Economic Growth":
The Latino population grew roughly five times faster than the overall population between 1990 and 2015. Latinos responsible for 29 percent of the growth in real income since 2005. They account for ten cents of every dollar of national income, and that proportion is rising because of growth in the Latino population and rising per capita earnings. Latinos are more likely to participate in the labor force. While Latinos account for 17% of all workers, they account for 21% of new entrepreneurs. The Hispanic poverty rate is falling more rapidly than for the rest of the population.
Additionally, it should be noted that Latinos wield more than $1.3 trillion of buying power.
Thus, this is a growing community that is growing more affluent, is overrepresented in terms of job creation, and has a median age about a decade younger than your overall population. I think it would be prudent to own a company that caters specifically to this community.
That said, the fact that Entravision services this community is a positive, but not in itself sufficient reason to buy in. In order to make that determination, well need to look under the financial hood.
Financial Snapshot
A quick review of the financial history here suggests that there is certainly some positive and negative trends. On the bright side, over the long term, the company seems capable of growing both the top and bottom lines. From 2013 to 2017, revenue was up just under $50 million, while net income grew by about $43 million. On the negative side, this positive trend seems to have reversed itself in the first quarter of 2018, with net income down in the face of higher revenue. This prompts the question: if rising revenue wont consistently lead to rising net income, what will?
Turning to the capital structure, Im not overly concerned about the level of debt, as some might be, for a few reasons. First, fully 95% of the long-term debt here is due after 2022, suggesting that theres not much risk of an imminent solvency crisis. Second, the level of long-term debt has decreased at a CAGR of about 4.3% since 2013 (from ~$364 million in 2013 to ~$291 million in the most recent quarter). Finally, weighted average interest rate of under 1.5% makes this debt incredibly inexpensive. All that said, I would like more of the $263 million that came in from the sale of spectrum usage rights in 2017 to go toward debt reduction (which has declined by less than ~$4 million from last year to the first quarter of 2018).
In regard to the way they treat shareholders, it seems to me that theres finally some evidence that management has found religion. Although they have paid investors about $59.6 million in dividends since 2013, they have also diluted the shareholder base, with shares having increased from 89.3 million outstanding in 2013 to 90.3 million outstanding today. That said, the company has just spent approximately $2.4 million on share buybacks.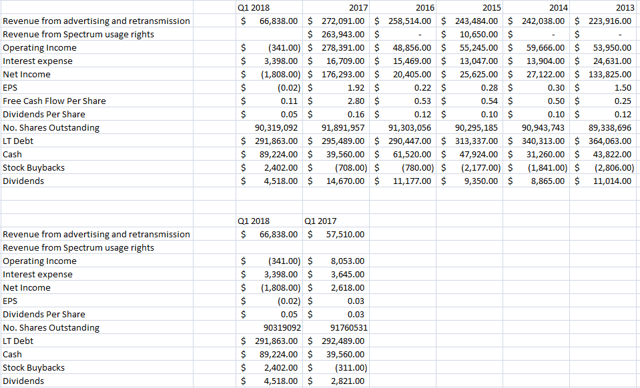 Source: Company filings, free cash figures provided by gurufocus
Modeling The Dividend
While the financial history here has been interesting, investors are more interested in the future for obvious reasons. Because of that, I must spend some time writing about the future for this company. When I forecast, I try to make the exercise as simple as possible by focusing on the one variable that I consider to be most relevant to driving value. In this case, I think the (growing) dividend is most relevant, so Ill grow it while holding all else (i.e. yield) constant.
Since 2013, the dividend per share has grown at a CAGR of about 9%. While I consider this to be a sustainable rate, I want to be as conservative as possible in my forecasts, in order to ensure that any surprises I experience are more likely to be pleasant ones. For that reason, Ill forecast a continued dividend per share growth rate of 5% over the next four years.
When I conduct this forecast, I estimate a CAGR of about 7.7% for shareholders over the next four years. In addition, just under 50% of my forecasted returns come from dividends, which are a far less capricious source of returns than capital gains, so that is a large positive also.

Source: Author forecast
The Stock
Successful investing is at least as much about paying a good price for companies than it is about simply buying growth. Aggressively bullish investors would be wise to remember that a great company can be a terrible investment if they overpay for it. With that in mind, I should spend some time working out whether the shares of Entravision are well priced or not. Two of the ways that I use to make that determination involve comparing the companys price to free cash flow to its own history, and by looking at the markets assumptions about long-term growth expressed in price.
In order to unbundle what the market thinks about long-term growth, I turn to the methodology outlined by Professor Stephen Penman in his excellent book Accounting for Value. According to this approach, an investor can isolate g in a relatively standard finance formula to understand what price says about the markets long-term expectations about a given company. At the moment, the market is assuming that Entravision will grow at 1.5% in perpetuity, which is massively pessimistic in my view.
For those more interested in a more traditional, more standard valuation tool, I offer price to free cash flow per share. Its obvious from this graphic that the company is trading near the low end of its valuation.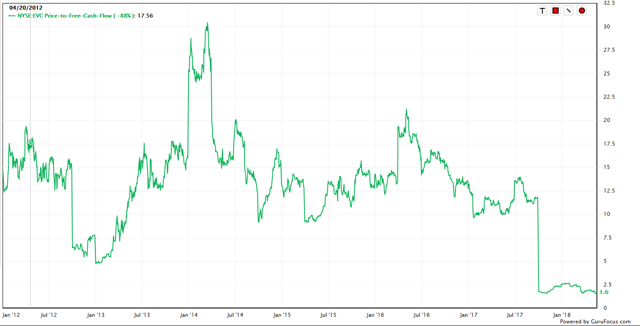 Source: Gurufocus
Conclusion
While there have been some difficulties associated with turning rising revenue into profitability, there are many positives here. The company services a very dynamic community, and the risk of financial crisis is exceedingly small. In addition, the dividend yield is very attractive and is well covered by cash flows. It should also be said that the company has a huge cash hoard in place to make strategic acquisitions or (hopefully) reward shareholders further. Finally, the shares themselves are inexpensively priced both relative to the overall market and to their own history. All of this leads me to conclude that on a risk adjusted basis, shares of Entravision are very reasonably priced at the moment, and investors would be wise to buy at these levels.
Disclosure: I/we have no positions in any stocks mentioned, but may initiate a long position in EVC over the next 72 hours.
I wrote this article myself, and it expresses my own opinions. I am not receiving compensation for it (other than from Seeking Alpha). I have no business relationship with any company whose stock is mentioned in this article.