Cherokee, Inc. (CHKE) is a micro-cap ($11.33 million) company that manages a portfolio of brands that are licensed for apparel, footwear, home products and accessories.
The Opportunity
Despite the continually falling stock price since mid-2015, a short opportunity still remains at current price levels. Some investors may look at the stock chart below and fall victim to the fallacy that the stock has already fallen so much that it cannot possibly go much lower. This is rarely the case. Time and time again investors get burned by believing this fallacy. Their poor financial health, poor operating results, broken business model, severe competition, and the possibility of Nasdaq beginning the delisting procedure of CHKE's stock in as little as five days, all point to an interesting short opportunity. I will explain in detail below why CHKE has further to fall, even after falling so far, and at this low of a price.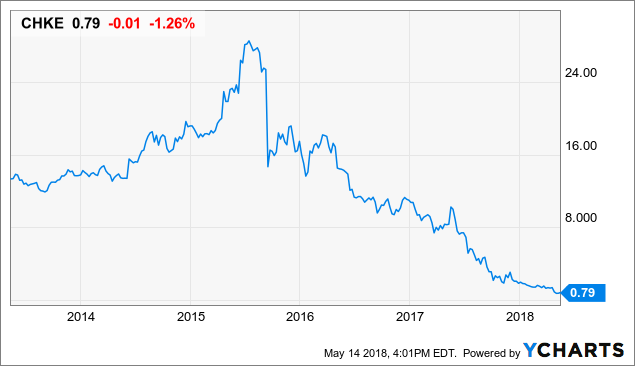 CHKE data by YCharts
Financial Health
Although not apparent in the five year stock chart above, a shorter time interval shows that CHKE's stock fell about 28% on April 19th, 2018 when their 10-K was released. In some cases, Mr. Market overreacts and provides investors with opportunities to buy great businesses at low prices. This is not one of those times. CHKE fell a lot, but not enough.
The largest reason for the stock price decline is likely due to the discussion of their debt under Item 1A. in their 10-K. Their credit facility with Cerberus Business Finance, LLC was at a balance of $49.5 million in principal (out of $50 million) as of February 3rd, 2018. This loan came with many strict covenants for CHKE. They must obtain Cerberus's consent before they can take on any additional debt, participate in any M&A activity, make any changes to their business model, transact with their affiliates, buyback stock, or pay any dividends. Not only that, CHKE has given Cerberus first lien on nearly all of their assets, which include their trademarks. If they default on the loan, Cerberus has the right to foreclose on all assets it is due and demand full repayment on any unpaid balance.
It gets worse – CHKE has already failed to comply with the previously stated covenants, more than once. As of their 10-K issuance, they were not in compliance with the covenants of the loan. The financial report also stated:
Based on our current forecasts, we anticipate that we will violate certain of our financial covenants in the Cerberus credit facility (specifically, our covenant to maintain certain liquidity levels) within the next twelve months without an infusion of cash or an increase in borrowing capacity under our revolving credit facility. [Annual Report]
CHKE has been fortune so far that Cerberus has not called the loan based on CHKE's inability to abide by the loan covenants. However, they could do so at any point, which would likely bankrupt CHKE. Looking at their balance sheet, it can be seen that management moved all of their long-term debt to short-term debt, illustrating their concern and expectation that their debt situation will unravel within the next 12 months. They have about $103.6 million in total assets, but 83% of those assets are in goodwill and intangible assets. Only $3.2 million is in cash, and another $10.3 million in receivables.
It is possible the company could raise more debt to pay off Cerberus to avoid bankruptcy, or they could raise more cash through an equity offering in the capital markets, but I do not expect either option to be viable, for a few reasons. First, listed in the covenants with Cerberus above, CHKE must receive Cerberus' approval before taking on any additional debt. Also, CHKE would not have accepted the poor terms and covenants they received from Cerberus if they had better options. Their financial position and future prospects have only worsened since the Cerberus agreement, likely meaning they will only have even worse options available to them, if any at all. They also cannot tap into the capital markets in an equity offering using Form S-3 due to their late report filing with the SEC. According to the 10-K:
Our late filing of our annual report for Fiscal 2017 and our quarterly report for the first quarter of Fiscal 2018 renders us ineligible to register the offer and sale of our securities using a registration statement on Form S-3, and we will not regain such eligibility until we have timely filed all of our periodic reports with the SEC for 12 consecutive calendar months.
At a minimum, they wouldn't receive these privileges again for 12 months. By that time, it could be too late.
The weighted-average interest rate as of February 3, 2018 was 11.0% on their $49.5 million debt with Cerberus. This will require CHKE to pay about $5.4 million in interest payments in fiscal 2019, not including any principal balance that is due. They paid $5.5 million in interest in fiscal 2018. On top of the debt, they have about $7.2 million in outstanding payables, a large tax liability of about $10.5 million, and about $5 million in other long-term liabilities. If the net losses in fiscal 2017 and fiscal 2018, and negative free cash flow in fiscal 2018 continues into fiscal 2019 and beyond, the company will not be able to satisfy their debts and other liabilities. As I will discuss below in the Financial Results and Broken Business Model sections, I do not expect their profitability or free cash flow generation to improve enough to save them from bankruptcy. According to the 10-K:
As discussed in Note 1 to the financial statements, the Company anticipates that it will violate the liquidity covenant of its debt agreement during the upcoming twelve months and does not currently have sufficient capital to repay such debt, which raises substantial doubt about the Companys ability to continue as a going concern.
For readers information and reference:
Fiscal Year 16: 1/31/2015 – 1/30/2016 Fiscal Year 17: 1/31/2016 – 1/28/2017 Fiscal Year 18: 1/29/2017 – 2/3/2018 Fiscal Year 19: 2/4/2018 – 2/2/2019 Financial Results
Their revenue and net income are both down year-over-year, 15% and 600%, respectively. Over the past 10 years, neither their revenues nor their net income have improved, both staying relatively flat to downward trending.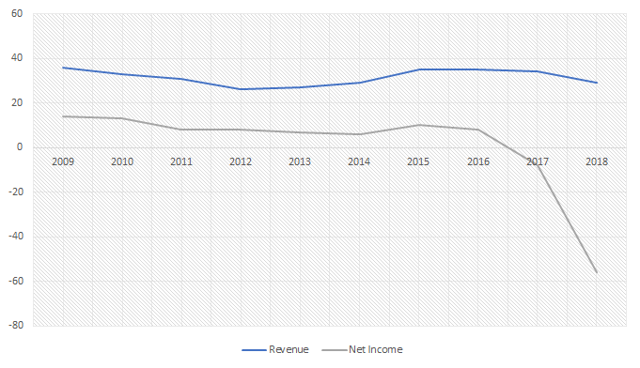 Source: Data from Morningstar; graph created by author.
Their Cherokee brand is their largest revenue segment and is down 52% year-over-year. Hi-Tec, Magnum, Interceptor and 50 Peaks made up about 33% of revenue in fiscal 2018, which was the first year of full sales for this segment since their acquisition. The Tony Hawk brand was up 8%, comprising of about 19% of total revenue. The Liz Lange and Flip Flop Shops are down 55% and 13%, respectively. These two segments combined are about 11% of total revenue. These declining segments are partnered with increasing operating expenses each year.
Target and Cherokee
Target had the exclusive rights to the Cherokee brand through fiscal 2017 for all product categories, and through fiscal 2018 for school uniforms. In fiscal 2018, CHKE received $0.9 million from Target, while having received $11.3 million and $15.8 million the two respective years prior. Management is attempting to replace Target revenue by licensing the brand to other companies. However, as shown in the fiscal 2018 results, they haven't been able to do so successfully yet as the Cherokee segment revenue is down significantly. I expect this to continue into fiscal 2019, and beyond.
Target and Liz Lange
Target also had a licensing agreement with CHKE for their Liz Lange brand. this agreement was terminated on January 31, 2018 (fiscal 2018). Even with the Target licensing agreement in place for nearly all of fiscal 2018, Liz Lange sales declined significantly year-over-year. The decline in sales will likely get worse in 2019 as this agreement is no longer in place, and if Target was unsuccessful in selling the brand, there are few retailers that can do a better job.
Kohl's and Tony Hawk
Kohl's had the exclusive rights to the Tony Hawk brand from CHKE until the end of fiscal 2018. Kohl's did not meet their minimum guarantees in 2016, 2017 or 2018, resulting in a preset fixed payment going to CHKE each year. This likely caused Kohl's to not renew the licensing agreement. Since Kohl's was unable to meet the minimum threshold, it is unlikely that CHKE will be able to find a different retailer/licensee who is a) willing to take on the risk of that high of a minimum guarantee, or b) exceed the revenue received from Kohl's minimum guarantees. This almost guarantees this segment will see a large decline in fiscal 2019, furthering CHKE's issues.
Broken Business Model
Their business model relies solely on their licensees doing well with their brands for a couple of reasons. First, if the licensee does well, CHKE does well. Second, if the licensee doesn't do well, CHKE doesn't do well, AND licensees do not renew their agreements, furthering CHKE's problems. It is has been the latter for CHKE as of late. As discussed above, their licensees are not doing well, causing CHKE's revenue to decline, and their largest licensees are not renewing their agreements.
Potential licensees will be aware that previous licensees had not done well with CHKE's brands, resulting in far less favorable terms in their future agreements for CHKE than they had in the past. These potential licensees seeing that Kohl's was required to pay the minimum guarantee for three years in a row will provide them with leverage to demand little to no minimum guarantees. That is assuming they are able to find any licensees at all. I expect that they find some smaller licensees on far less favorable terms, then those results will be poor, causing loss of agreements again.
Their business model is also broken because they license to brick-and-mortar retail companies, who are struggling themselves due to the Amazon-effect. Most investors are aware of the massive disruption in the retail industry due to Amazon, which is causing the industry that CHKE solely relies on to be dying. As retail struggles continue, it will pour over into CHKE.
Competition
Not only is their business model broken, but the most important part of their business (their IP and brands) competes in an incredibly competitive market. There are numerous apparel and shoe companies that CHKE competes directly with that are much larger, have more access to capital, and are much healthier. The intense competition CHKE faces in this industry will worsen their ability to license their brands to customers, weigh on sales, and decrease margins.
They're not only competing against well-established, successful brands, but they are competing against individuals and startups. With the rise in popularity of dropshipping and ecommerce, technology has made it much easier for anyone to brand/sell their own apparel and shoes. Although this is a small piece of the competition, it is an increasingly important angle that competitors are attacking.
Stock Risk
There are characteristics of the stock that make it even more risky, aside from the business itself. With the price under $1, it is considered a penny stock, which are known to be far more risky. Also, if the price remains under $1 for 30 days in a row, the stock could get delisted from the NASDAQ and be forced to trade on the OTC markets. The stock has been trading under $1 since April 20th, which puts it at 25 days in a row. NASDAQ could begin the delisting procedure within the five days. The company's stock already has a lack of liquidity on the NASDAQ due to the company's size (micro-cap) and the lack of retail awareness. Being forced to list on the OTC markets would increase these risks further.
In CHKE's 10-K, it stated:
Our certificate of incorporation allows our board of directors to issue up to 1,000,000 shares of 'blank check' preferred stock.
This would further dilute current shareholders about 7.7%, on top of the 4 million shares it issued in fiscal 2018 (increased shares outstanding by about 42.5%).
Risks to the Short Thesis
There appears to be very little potential for the company, but their one bright spot may be their Hi-Tec, Magnum, Interceptor and 50 Peaks segment. The success of this segment is to be seen, but their products did well in fiscal 2018 and are a growing portion of the business. They are also licensed with Walmart, which can prove to be a large catalyst for CHKE as they are one of the only retailers that is successfully battling against Amazon.
Walmart is a blessing and a curse, as they can provide high volume of sales, but they are known for cutthroat pricing with suppliers and severe competition to sell brands in their stores. CHKE will likely have to receive less favorable terms with Walmart than they received with Target and Kohl's in order to maintain the licensing agreement and compete against other brands carried by Walmart.
This short thesis also carries risk due to the potential of new licensees for the Tony Hawk and Cherokee brands. Although I do not expect wildly successful results from the Tony Hawk brand, due to the struggles Kohl's had, or the Cherokee brand, due to the lost Target agreement, it is possible that they could be more successful than I expect. If CHKE is able to find a better licensee for the Tony Hawk brand than Kohl's was, they may be able to receive more revenue from this segment than they have in the past. Also, since Kohl's had the exclusive rights to this brand, CHKE was not able to license it to anyone else. Now that they are able to license the brand to anyone, it is possible that they license the brand to many companies instead of just one to produce more revenues in aggregate than Kohl's was providing. The Cherokee brand does have significant competition, but it is well known and has been around for a long time. Target will be a hard licensee to replace, but following a similar strategy to the Tony Hawk brand (Target had exclusive rights to the Cherokee brand, like Kohl's did with the Tony Hawk brand), if they can license the brand to multiple companies rather than just one, they may be able to make up the lost revenue from Target. If they are able to get a lot of new licensees, they may even be able to improve revenues for this segment. CHKE could also attempt to license their brands to companies with a dominant online presence, rather than focusing on brick-and-mortar, in hopes to compete in the evolving retail market.
If the company is able to turnaround its operations so it can satisfy its debts, or they are able to work out an agreement with their creditor, Cerberus, the short thesis would become far less appealing. Their current debt levels, lack of cash generation, and their inability to abide by the covenants set by Cerberus are one of the largest potentials and greatest arguments for the short thesis. If the debt becomes under control, the risk-return of a short position may not be warranted.
The stock risk discussed above, which is good for a short position, could be mitigated rather easily if the company does a reverse stock split. A reverse stock split is a very common way that company's deal with their stock being priced too low for the exchange. According to Investopedia, "There are a number of reasons why a company may decide to reduce its number of outstanding shares in the market. In the vast majority of cases, a reverse split is undertaken to fulfill exchange listing requirements." A reverse stock split could undermine the large upside a delisting from the NASDAQ would give short positions.
Conclusion
It is possible that one, or all, of the risks to the short thesis discussed above play out in the company's favor and undermines this short thesis. However, I am not not too concerned at this point in time.
Their business model and poor future prospects alone paints a dismal picture for the future of CHKE. By adding in their horrible balance sheet and debt problems, this company is just another quarter closer to zero. I do not expect their business model troubles to turnaround enough to save the business, and their lack of options regarding their debt dooms the business. I expect they will have a tough time finding new licensees, and will likely fail in replacing the level of revenue Target and Kohl's provided. As much of the retail industry continues to die from Amazon, and the retail landscape becomes increasingly competitive, CHKE is going to be left for dead. Despite the stock having lost over 95% of its value over the past five years, I still recommend this stock as a short position at today's prices.
Author's note: If you have enjoyed this article, please "like" it below, and click the "follow" button next to my name at the top of the page. Your support will allow me to invest further time and resources into creating proprietary research.
Disclaimer: Everything included in this article is not to be taken as investing advice because I am not your investment adviser. Also, I have not considered your specific situation as your fiduciary. Investors are expected to do their own due diligence before making any investments, and should consult with an investment professional who knows their objectives and constraints.
Disclosure: I/we have no positions in any stocks mentioned, but may initiate a short position in CHKE over the next 72 hours.
I wrote this article myself, and it expresses my own opinions. I am not receiving compensation for it (other than from Seeking Alpha). I have no business relationship with any company whose stock is mentioned in this article.
Editor's Note: This article covers one or more stocks trading at less than $1 per share and/or with less than a $100 million market cap. Please be aware of the risks associated with these stocks.