Currently, PayPal Holdings Inc (NASDAQ:PYPL) is a walking contradiction. Last year, PayPal stock nearly gained a massive 83% in the markets, quickly silencing its critics. However, this year, the critics are back and for good reason. Year-to-date, PYPL has moved up only a little over 1%. With the performance it just delivered, this is the very definition of pedestrian.
In my most recent write-up of PayPal stock, I cautioned that while the company itself is brilliant, it's probably due for a breather. Technically, I wasn't impressed with what appears to be a bearish head-and-shoulders formation. On top of that, we're suffering extreme sentiment swings in the broader markets: you never know if the next day is the long-dreaded correction.
Since my article was published, the PYPL stock price has gained less than 1%. But even if shares were up 10%, I'd still remain tactically cautious. Even this year's high-flyers like Netflix, Inc. (NASDAQ:NFLX) and Amazon.com, Inc. (NASDAQ:AMZN) had a forgettable month in March. Moreover, the events that caused these weaknesses are yet to be resolved.
While I love PayPal stock for the long haul, I'll gladly concede that you can't ride this perpetually without hiccups. Nothing, not even the blockchain concept, is above market psychology. And realistically, we're likely going to hit a rough patch. In addition, PYPL is a young, standalone investment.
It will more than likely incur a "sophomore slump," especially at this juncture.
PayPal Stock Is Due for a Correction
It's a concept that long-side investors don't like talking about, but it's just plain reality: what goes up must come down. Without traders willing to stake both sides of the argument, a healthy market cannot exist. So yes, it stinks, but a downside is ultimately positive for PayPal stock.
The other point is that a correction is guaranteed to occur. Mind you, I'm not guaranteeing the time frame; the PYPL stock price could charge higher from here, and make me look like a fool. That's the risk I have to take in this industry. But history proves that no company can ever produce a perfect record.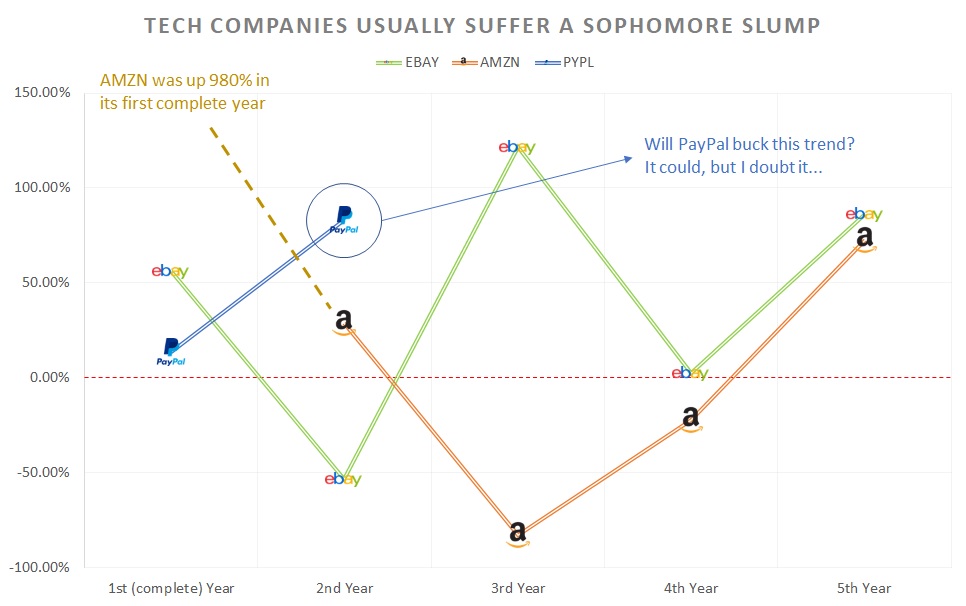 Let's consider eBay Inc (NASDAQ:EBAY), from which PayPal split. Like the most elite tech names, eBay sparked a business revolution. In this case, the company brought auctioning to the internet, and neither auctioning or the internet were the same since.
True to form, eBay rocked the markets in its first complete year in 1999, returning 56.5%. However, in 2000, it suffered a devastating 53% loss.
Another example is Amazon. Perhaps no other company has impacted the retail market like Amazon, and its blistering first-complete year in 1998 proved it. Shares rocketed up nearly 980%, and followed that up with a respectable 29% performance in 1999. The hammer dropped, though, in the following year, where the company lost almost 83%. In 2001, Amazon lost another 22%.
Now look at PayPal stock. In its first complete year in 2016, it gained a respectable 13.6%. The following year, it enjoyed its breakout moment, delivering 83% for shareholders. But this is also coming at a time when prior revolutionary tech names suffered their first real setback.
Every company is different, of course, but I don't think PYPL will buck the trend.
Be Careful Is All I'm Sayin'
Before you get out the pitchforks, let me again reiterate that I'm long-term bullish on PayPal stock. All the things that brought you to this name in the first place are still relevant. Plus, with the emergence of the blockchain and cryptocurrencies, it's clear that people are seeking alternative payment platforms.
With that said, every new technology encounters hiccups before they're truly accepted into the mainstream. So my advice is simple: Be confident, but also be realistic. If eBay and Amazon couldn't escape their adolescent growing pains, I don't think PYPL will either.
Sure, the former two companies had their adolescence coincide with the tech bubble collapse. But it's not as if PayPal stock has a smooth ride ahead of it either. Should the China tariff issue or other geopolitical flashpoints go awry, trouble will come in a hurry.
In the long run, I genuinely believe that PYPL will resume its brilliant campaign. But for right now, this is a great time to take profits and reevaluate. If anything, it will provide you with an opportunity to get a great company at an even greater discount.
As of this writing, Josh Enomoto did not hold a position in any of the aforementioned securities.
Compare Brokers