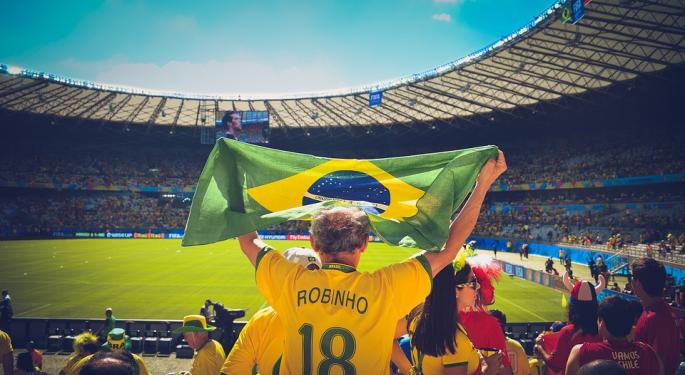 If you're looking for the year's best-performing stock market this year, look no further than Brazil, where the Bovespa stock index is up 19 percent, making the S&P 500's 3.8 percent rise positively yawn-inspiring by comparison.
When a country's stock market has just posted its best monthly increase in 17 years amid its worst recession in 25 years, it's time to take things seriously.
Who knew it would take surging sentiment for the ouster of a sitting president?
The outperformance by Brazilian equities is in stark contrast to how the country's government and economy are faring, but investors appear to be betting that an impeachment of Brazil President Dilma Rousseff will change the economic outlook for the country.
The rise in Brazilian stocks has contributed to the recent outperformance of the BRICs Building motif, which has a 15.1 percent weighting in Brazilian stocks, and has gained 8.2 percent in the past month. The motif's Brazil segment did even better, rising 23.3 percent in the last month.
Over the past 12 months, the motif has underperformed, falling 11.9 percent. In that same period, the S&P 500 was up 0.3%. Meanwhile, Brazil's real, last year's worst-performing currency, is up nearly 10 percent this year.
The underperformance began in June of last year.
The most heavily weighted names in the motif are China Mobile Ltd. (ADR) (NYSE: CHL), Aibaba Group Holding Ltd (NYSE: BABA), Baidu Inc (NASDAQ: BIDU), India's HDFC Bank (NYSE: HDB) and Russia's Mobile TeleSystems PJSC (NYSE: MBT).
The countries are weighted as follows: China (69.7 percent), Brazil (14.3 percent), India (9.2 percent), Russia (5.8 percent), South Africa (1.1 percent).
Political Crisis Gripping Latin America's Largest Economy
The trouble started two years ago when prosecutors discovered a scheme inside Brazilian oil giant Petrobras, where contractors were accused of paying nearly $3 billion in bribes to executives who ultimately funneled money into the campaigns of parties in Brazil's governing coalition.
Both politicians and private citizens have been jailed since, with the list of suspected offenders expected to grow.
Unfortunately for longer-term investors in Brazilian stocks, the scandal hit as the country whose economy relies heavily on commodities exports also faced a rash of economic challenges. Falling commodities prices have sent unemployment soaring to 9.5 percent from 6.8 percent just one year ago.
Last week, the Brazilian Democratic Movement party, which played a key role in Rousseff's re-election, voted to break away from her government, with pundits expecting this would dramatically increase the odds of Rousseff being impeached by the lower house by early May. This step would force Rousseff to step down temporarily.
While Rousseff's departure is the optimal scenario investors seem to be responding to, some Brazil watchers caution that any political change would take some time.
"This impeachment process will not go as quickly or cleanly as markets seem to be pricing in," Win Thin, head of Emerging Market Currency Strategy at Brown Brothers Harriman, told CNBC.com.
However, emerging market investors haven't been merely relying on the resurgence of Brazil. The Financial Times recently reported that emerging market bond and equity funds have begun to attract small inflows, pulling in about $1 million a week for the first half of March, suggesting eight months of consecutive outflows may finally come to an end.
Investors have pulled $48.7 billion from cross-border funds since flows turned negative last July, but the recent rebound in oil prices and positive developments from China have pushed investors back into emerging market stocks.5
Adam Laird, head of passive investments at fund supermarket Hargreaves Lansdown, told the FT that the the U.S. Federal Reserve scaled back forecasts of rate hikes was also good news given that rising interest rates are a specific threat to emerging-market bonds given that many of them are issued in, or linked to, U.S. dollars.
Considering investors are relatively new to their bullishness toward emerging-market stocks, the sector's rally may have additional upside.
Posted-In: BRIC BRICSLong Ideas News Emerging Markets Markets Trading Ideas ETFs Best of Benzinga
© 2016 Benzinga.com. Benzinga does not provide investment advice. All rights reserved.

Related Articles (BIDU + BABA) What JPMorgan Is Looking For Ahead Of Alibaba's Q1 Print TDAmeritrade Users Like Depressed Energy Names, Shying Away From Alibaba And U.S. Steel JPMorgan Shaves Alibaba's Price Target, Still Overweight On The Stock Deutsche Bank Revisits Alibaba Margin Assumptions; Still Buying Goldman Considers Yahoo's Strategic Options, Raises Target To $37 Chinese Internet Stocks Are Rebooting
View Comments and Join the Discussion! View the discussion thread.
Get Benzinga's Newsletters
Zing Talk: Benzingas Top Stories
Morning Market Primer
Weekly ETF Outlook
Weekly Options Outlook
Daily Ratings Summary
Technical Chart of the Day
Weekly Economic Outlook
Trending