tags:
The biotech industry has been in focus over the past week with pipeline and regulatory updates. The development of vaccines for COVID-19 continues to be in the spotlight with new emerging variants. Collaborations were in focus too.
Recap of the Week's Most Important Stories:
Updates From Moderna: Moderna, Inc. (MRNA Quick QuoteMRNA ) announced that the FDA has approved an update to the emergency use authorization (EUA) of its COVID-19 vaccine (mRNA-1273). The regulatory body has authorized a third dose for immunocompromised individuals 18 years of age or older in the United States who have undergone solid organ transplantation, or who are diagnosed with conditions that are considered to have an equivalent level of immunocompromise. Results of a randomized controlled study of 120 individuals who had undergone solid organ transplant procedures showed that a third dose of the vaccine improved immune response compared to placebo.
Moderna also revised its supply agreement with the Government of Canada for up to 105 million doses of its COVID-19 vaccine and its booster vaccine candidate, if authorized, for delivery through 2024. Per the agreement, Moderna will provide 20 million doses each year in 2022 and 2023, with an option for an additional 15 million doses each year. For 2024, the agreement provides an option for up to 35 million doses.
Moderna also announced that the first patient has been dosed in the phase I/II study evaluating the safety and tolerability of mRNA-3705, its investigational mRNA therapeutic for methylmalonic acidemia (MMA), administered via intravenous infusion in patients with isolated MMA due to MUT deficiency.
Moderna currently carries a Zacks Rank #2 (Buy). You can see the complete list of today's Zacks #1 Rank stocks here.
CureVac Surges on COVID-19 Study Data: Shares of CureVac N.V. (CVAC Quick QuoteCVAC ) surged after it announced encouraging preclinical data on its vaccine candidate. The study assessed cynomolg! us macaques vaccinated with 12µg of either the first or second-generation vaccine candidate. Results showed that better activation of innate and adaptive immune responses was achieved with second-generation vaccine candidate, CV2CoV, resulting in faster response onset, higher titers of antibodies and stronger memory B and T cell activation compared to the first-generation candidate, CVnCoV. Moreover, higher antibody neutralizing capacity was observed with CV2CoV across all selected variants, including the Beta, Delta and Lambda variants. CureVac is developing its second-generation vaccine with GlaxoSmithKline (GSK Quick QuoteGSK ) .
Regulatory Update From Rigel: Rigel Pharmaceuticals (RIGL Quick QuoteRIGL ) announced that the FDA has declined to issue an EUA to fostamatinib for COVID-19. The agency has informed the company that clinical data submitted in late May from a phase II study (n=59) on fostamatinib to treat hospitalized patients suffering from COVID-19 are insufficient for an EUA at this time.
Rigel is currently conducting a larger phase III study evaluating fostamatinib in hospitalized patients with COVID-19. The primary endpoint of this study is the proportion of patients who progress to severe/critical disease within 29 days. The company expects to provide further safety and efficacy data from this larger, 308-patient trial of fostamatinib in COVID-19 patients. Rigel plans to resubmit its EUA application with this additional data if the study is successful.
Exelixis Expands Collaboration With Invenra: Exelixis (EXEL Quick QuoteEXEL ) and partner Invenra have expanded their discovery and licensing collaboration to include an additional 20 oncology targets. Per the terms of this latest expanded partnership, Exelixis will pay Invenra an upfront fee of $15.0 million along with additional fees and funding for the option to nominate up to 20 additional targets in oncology. Invenra will also be eligible for development, regulatory, and commercial! mileston! es, as well as tiered royalties on net sales of any approved products.
Exelixis will own all antibody sequences discovered from the collaboration for all therapeutic uses in oncology and any other disease areas. The expanded collaboration also provides Exelixis with an option to obtain development and commercialization rights to certain of Invenra's future internal pipeline programs, in exchange for an opt-in fee.
Both the companies had entered into a collaboration agreement in May 2018 to discover and develop mono-specific and multi-specific antibodies using Invenra's antibody and B-Body platforms. Thereafter, the companies expanded their collaboration in October 2019 to generate additional programs.
PerformanceMedical – Biomedical and Genetics Industry 5YR % Return
Medical – Biomedical and Genetics Industry 5YR % Return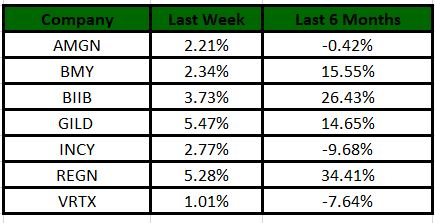 Image Source: Zacks Investment Research
The Nasdaq Biotechnology Index has lost 1.7% in the past five trading sessions. Among the biotech giants, Gilead gained 5.47% during the period. Over the past six months, shares of Regeneron have surged 34.4%. (See the last biotech stock roundup here: Biotech Stock Roundup: REGN Q2 Earnings Beat, BLUE, BYSI's Updates & More).
What's Next in Biotech?
Stay tuned for more earnings, pipeline and regulatory updates.