With Arrowhead Pharmaceuticals' (ARWR) prospects on the rise, it is natural enough for institutions to take a greater interest in the company as it starts to overcome investment hurdles. Institutional interest seems to be on the rise, with plenty of room to run, as ownership is still low compared to where it has been in the past. With Arrowhead's cash position enough to get it into early 2019, it would be plausible to assume the company could look to do an equity raise in the near future, like after its summer analyst day, to bolster its cash position after a tremendous run this year and plenty of programs in its pipeline to push.
Sentiment is starting to shift for Arrowhead stock for institutional investors like RTW Investments, LP which recently acquired a 5.02% stake in Arrowhead stock. A look at Nasdaq's webpage on Arrowhead shows that 13F filings showing institutional ownership sits at a little over 46% when it was reported to be a little over 30% in the last reporting period.
Institutions are starting to take interest as Nasdaq is reporting that over the latest period institutional activity includes 60 increased positions versus 33 decreased positions. Even more telling is the fact that there are 37 new positions in the stock compared to only 18 exited positions, even though the stock has had a massive run over the past year.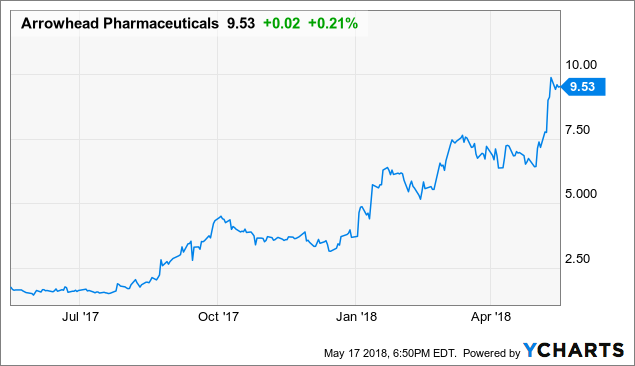 ARWR data by YCharts
With the stock of Arrowhead hanging around double digits for the first time since 2014, there are a couple of catalysts coming that might drive some additional institutional investment over the back half of 2018. Arrowhead has a presentation for the American Thoracic Society 2018 International Conference planned for May 21st. It plans to present data on its ARO-ENaC preclinical candidate, formerly known as ARO-Lung1, which is its first candidate to leverage the TRiM platform to address diseases of the lung.
This data reveal might be very interesting indeed because Arrowhead's management is planning a summer analyst meeting exclusively around its ARO-ENaC candidate. Little is currently known about this candidate except that it is an inhaled RNAi therapeutic targeting the epithelial sodium channel alpha subunit, or alpha ENaC, for the treatment of cystic fibrosis. Thats about it, except for the fact that management has spoken about this candidate as a potential golden goose, and that it is expected to host a summer analyst meeting around it, even though it is not even the lead candidate in its current pipeline of very promising candidates.
The upcoming data reveal might be enough to drive some institutional investment, but I think the big surge of potential upside could come after the analyst meeting, where the results and implications will be fully discussed by management and analyst questions and concerns are fully addressed. Also, remember that Arrowhead has a potential milestone payment coming from Amgen Inc. (AMGN) sometime over 2018 due to its collaboration candidate AMG 890, which is already shown as progressing towards clinical trials on Arrowhead's webpage. Amgen's milestone payment could help validate Arrowhead's TRiM platform further driving institutional interest as Amgen takes one of its two fully licensed candidates into official clinical trials. Amgen speculation on its collaboration candidate has been enough to move Arrowhead stock 20%+ in the past and might be enough to do so again, especially if it comes with a nice milestone payment and additional details.
This brings me to Arrowhead's financial position which is secure for 2018, but not much farther into 2019, especially if it continues to aggressively pursue all of its candidates at the same time. After the company's latest earnings call, it reported quarterly spends of around $17 million and had a current liquidity position at the end of Q4 of a little over $50 million. Fortunately for Arrowhead, it has shown the ability to easily raise additional funds as its latest equity offering in January was oversubscribed and raised over $50 million in additional funds for the company. This brought the company's cash position up over $100 million at the beginning of the year which is ok but not great. I would not be too surprised if Arrowhead did an additional capital raise after this summer's analyst meeting, especially if it can stir up enough institutional and investor confidence in the company to get the share price solidly into the double digits.
Institutions are again starting to show interest in Arrowhead's stock with plenty of room to run before retail investors make up a minority of the company's ownership. With a big data reveal right around the corner, along with an upcoming analyst day centered around a candidate that investors know little about, additional upside might be right around the corner if the data is as great as the company seems to think. Great data, institutional investment, an additional oversubscribed equity raise, and an Amgen progression into clinical trials could easily be enough to get Arrowhead stock into the double digits over the back half of the year towards a possible $13 price target I think is entirely possible. I remain long Arrowhead. Best of luck to all.
Disclosure: I am/we are long ARWR.
I wrote this article myself, and it expresses my own opinions. I am not receiving compensation for it (other than from Seeking Alpha). I have no business relationship with any company whose stock is mentioned in this article.