Aquantia (AQ), the fabless semiconductor company that specializes in designing datacenter connectivity chips, has just reported Q1 earnings. The small-cap company is a usual suspect for earnings beats, having topped expectations in both of the quarters it has reported since going public at $9 per share last November.
Shares rallied earlier this year, but have stumbled since the last quarter as Aquantia's lockup expiration ended on May 2. With a small-cap stock like this (Aquantia's market cap is less than $400 million), there's bound to be a lot of volatility as insiders let go of their positions and turn their paper gains into huge cash windfalls. From an all-time high of ~$18 reached in March, Aquantia's shares have suffered a breathtaking nosedive to the teens, resurrected only partially by a positive earnings reaction to Q1 results.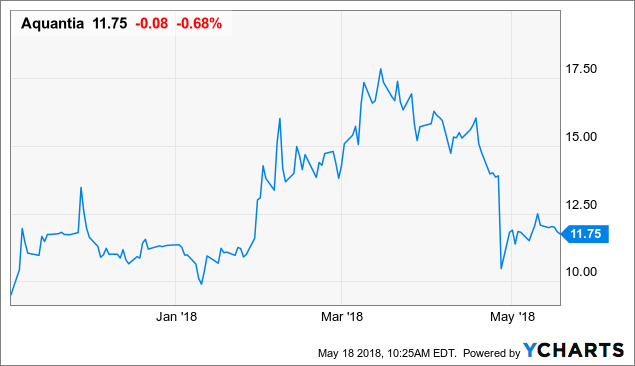 AQ data by YCharts
Last quarter, I had been cautious on the stock due to its meteoric rise. Now that shares are markedly less expensive, the risk-reward profile does look more attractive for Aquantia. At Aquantia's market cap of $396 million and enterprise value of $333 million (netting out balance sheet cash of $63 million), the company essentially trades at a low valuation of 2.7x EV/FY18 revenues, assuming 20% revenue growth in FY18 and a revenue estimate of $124 million for the year, consistent with the 20% y/y growth Aquantia saw this quarter.
There's certainly opportunity in Aquantia at these levels, especially considering that small-cap stocks like this can see a lot of upside volatility. On the whole, however, I think Aquantia is still a wait-and-see story. The fact that Aquantia was able to manage down its earnings in the quarter was a huge positive, but until the company generates enough earnings and cash flow to be able to claim a normalized earnings valuation, I would remain on the sidelines. Analysts are only expecting EPS of $0.08 out of Aquantia this year, according to Yahoo Finance, and $0.40 next year – putting Aquantia at steep P/E multiples on an FY18 and FY19 basis.
Unless these estimates come meaningfully up, there's not that much room for Aquantia to advance much further in the current market – especially when other semiconductor stocks have taken a beating in recent months and look more attractive on a relative basis. Memory continues to be my favorite area in the semiconductor space, particularly Western Digital (WDC) as the company begins to rally back from a sharp drop related to DRAM and NAND pricing concerns. At the current juncture, semiconductor stocks like Western Digital – which produces tremendous amounts of cash flow for its low valuation – are far more appealing than small-caps like Aquantia with no track record for earnings generation. Investors wanting small-cap growth stocks are better off investing in much faster-growing SaaS and cloud companies.
Here's a look at Aquantia's results in the first quarter:
Figure 1. Aquantia Q1 results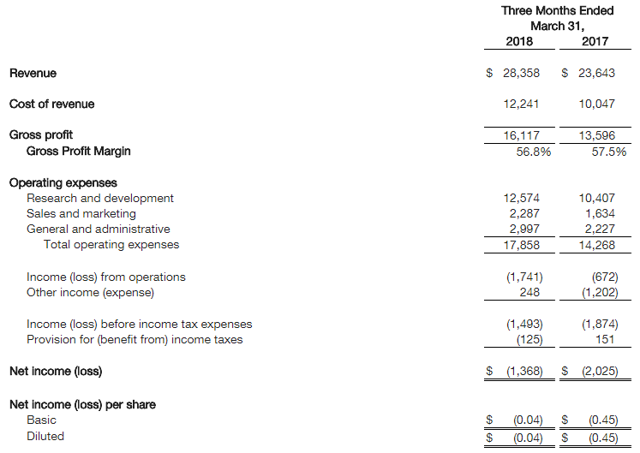 Source: Aquantia investor relations
Revenues in the quarter grew 20% y/y (and 2% sequentially) to $28.4 million, slightly edging out over analyst expectations of $27.7 million (+17% y/y) just like last quarter.
The lion's share of Aquantia's revenues still comes from its datacenter business, with $16.3 million of revenues this quarter (58%) coming from that segment. Growth, however, is slowing down – last year's Q1 datacenter revenues were $15.8 million, implying just 3% growth this quarter.
As Aquantia's biggest revenue driver runs into growth headwinds, it becomes incumbent on the Access segment (products like Ethernet ports for notebooks and tablets) to generate Aquantia's growth. Revenues grew to $3 million this quarter from essentially nothing in the year-ago period, so it seems that Aquantia is seeing success on this front – but the company has to keep up its growth in this segment to balance out the slowdown in the datacenter business. Revenues have already decelerated this quarter from 22% y/y growth in Q4; if Aquantia's growth drops meaningfully below 20%, the stock could see some bumps.
Analysts are expecting an average of $127.8 million in revenues for FY18, or 24% y/y growth. With this target in mind, there is pressure on Aquantia to pick up its growth in the back half of this year to meet estimates.
One other concerning point in the quarter – GAAP gross margins dropped 70bps in the quarter to 56.8%. Of course, a 70bps drop isn't the most alarming thing in the world, but in a hypercompetitive space like datacenter chips, each point of margin sacrificed must be watched – especially if the trend continues.
Elsewhere on the earnings front, however, Aquantia fared a lot better than it did last quarter. Operating expenses grew 25% y/y to $17.9 million, only slightly outpacing revenue growth and led by a $2.1 million jump in R&D costs in the quarter, which is likely to yield long-term fruit. A favorable tax benefit, however, helped to slim Aquantia's GAAP net losses to -$1.4 million in Q1, representing a net margin of -5% and substantially better than -$2.0 million or -9% in the year-ago quarter. If Aquantia hits breakeven sooner than expected this year, it could be a major rallying point for the stock.
The bottom line on Aquantia: In my opinion, strengthened results on the bottom line this quarter are a huge positive development at Aquantia. The company, however, still has a lot to prove. Diversification away from its datacenter business will become key, especially as the growth in Q1 has slowed down to essentially flat. Growth in R&D expenses highlights that Aquantia is focused on product development in new markets, but with a small-cap company like this with limited financial resources, its ability to execute is a large unknown.
Aquantia is still a show-me story. Relative to how the company performed this quarter, analysts' expectations for 24% revenue growth and positive EPS for the year are optimistic targets that Aquantia may not be able to hit. Despite having fallen more than 50% from recent highs in May, Aquantia still remains fairly valued from a risk-reward perspective. Continue to monitor the stock for entry points, but stay cautious until the fundamentals begin to show a clearer path to profits.
Disclosure: I/we have no positions in any stocks mentioned, and no plans to initiate any positions within the next 72 hours.
I wrote this article myself, and it expresses my own opinions. I am not receiving compensation for it (other than from Seeking Alpha). I have no business relationship with any company whose stock is mentioned in this article.