Did you know that Alphabet Inc (NASDAQ:GOOG, NASDAQ:GOOGL) went skidding into the end of 2017? Some investors may not have noticed the underperformance in Google stock, as it stumbled up to and through the holiday trading periods. On Dec. 18, Alphabet stock leaped to new all-time highs, before declining for eight straight days to end the year.
That's a pretty notable losing streak, although it flew mostly under the radar. It also shouldn't take away from the stellar 2017 GOOGL enjoyed, climbing 33%. Jump over to 2018 and Google stock has spent its time rallying. Through Thursday, GOOGL shares were up 5.5% in the new year.
In fact, most of the FANG stocks have been hot, with Facebook Inc (NASDAQ:FB), Netflix, Inc. (NASDAQ:NFLX) and Amazon.com, Inc. (NASDAQ:AMZN) all starting the year off with a rally too.
So, what do we make of Google stock?
Like FB, and unlike NFLX and AMZN, GOOGL stock trades with a reasonable valuation given its earnings and revenue growth.
A Closer Look at GOOGL Stock
At first glance, Google stock appears expensive, trading at about 36 times its trailing earnings. However, its forward price-to-earnings (P/E) ratio is considerably lower, at 26. Analysts expect $41.56 in earnings per share for 2018, up ~29% year-over-year (YoY).
I don't really like to look too far into the future. Because of Alphabet's consistency, though, I couldn't help but peak at 2019 estimates. Analysts forecast earnings per share of $48.64, up 17% YoY. In other words, Alphabet stock trades at just 22.5 times 2019 earnings estimates. Even though there's a risk that these estimates are too high, I think it's a real possibility that they're too low.
In either case, we have a stock that's growing earnings in the high-teens to low-20% range for the foreseeable future. Add in the fact that revenue will grow about 22% this year and 20% in 2018 and it's hard to be bearish on GOOGL stock.
I also couldn't help but take a look at the search giant's cash flow. Operating cash flow (OCF) over the trailing 12 months sits at just over $36 billion. That's more than one-third higher than where it sat at calendar-year-end 2015. It's roughly double where it stood four years ago.
Likewise, the company's trailing free-cash flow hit $27.50 billion, up more than 60% over the past 18 months. The impact of Ruth Porat, who joined Alphabet as CFO in 2015, should not be overlooked.
Google Stock Valuation
One thing I've never understood is the blue-chip mantra. Some investors tell me that buying Procter & Gamble Co (NYSE:PG) or Johnson & Johnson (NYSE:JNJ) is a sound choice, but they argue that buying a company like Alphabet or Facebook is foolish, as these stocks are too expensive.
They contend that PG, JNJ and others are blue-chip stocks with long histories of dividend payouts and an elite brand name. I don't argue with any of that. However, is Google not considered to have one of the most powerful brands in the entire world? Further, is its forward P/E ratio of 26 and earnings growth of 20% not reasonable — even desirable — when compared to PG's forward P/E ratio of 20 and earnings growth of 7%?
I don't mean this a put-down of blue-chip stocks. Rather, it's to point out other companies — absent a long history of dividends — deserve some premium for their brands too. Google fits that bill in my opinion, helping to justify its valuation.
Trading Alphabet Stock
As for the stock, we've got a relatively clean breakout. It's important how it reacts now. In early December, Google stock had the perfect decline down to support, which held steady. After a big move over $1,090 to hit new all-time highs, Google stock is pulling back. While it's still over this level, it's unclear whether it will hold now or retreat.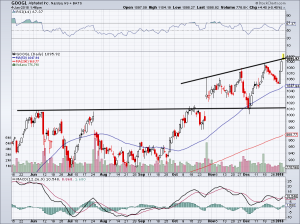 Click to Enlarge
Based on how it looks — because of that upper trend-line resistance — a pullback is looking more and more likely. Make no mistake, though, that's actually healthy price action. While bullish traders can try to eek out a bit more on the upside, a longer-term swing looks more appropriate.
Aggressive buyers can step in now and add on a decline. More conservative investors can hope for a pullback and begin accumulating Google stock cheaper.
This is a great company and a stock that's clearly looking to push higher. Don't try to get too cute regarding when to buy.
Bret Kenwell is the manager and author of Future Blue Chips and is on Twitter @BretKenwell. As of this writing, Bret Kenwell did not hold a position in any of the aforementioned securities.
Compare Brokers