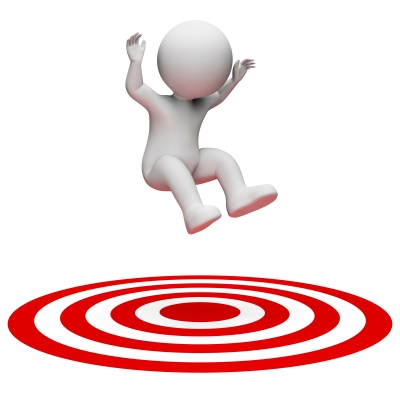 (Source: Free Digital Photos)
Introduction
Large-cap stocks, as represented by the S&P 500, make up about 70% of the overall market capitalization of our domestic stock markets. They also make up 90% of the S&P 1500. It is no wonder why the S&P 500 is referred to as The Market. As evidenced by the articles on this site and others, the constituents of the S&P 500 take up a majority of the blog space when one is researching stocks. Because of this, it can be difficult to find reliable information about smaller companies.
There is an asset category of the market that deserves as much attention as the large-cap space, and that is the mid-cap stocks. In fact, an equal amount of investment should be made in mid-caps as there is in large-caps. Here, I will make the case for mid-cap stocks and a few suggestions on how to best invest in them.
The Case for Mid-Cap Stocks
First, and most obvious, the overall returns of the relative categories should be made. If one compares the S&P 500 to the S&P Midcap 400 since 1991, there are obvious differences that exist. Here is how an initial $10,000 investment would have performed with each index since that year.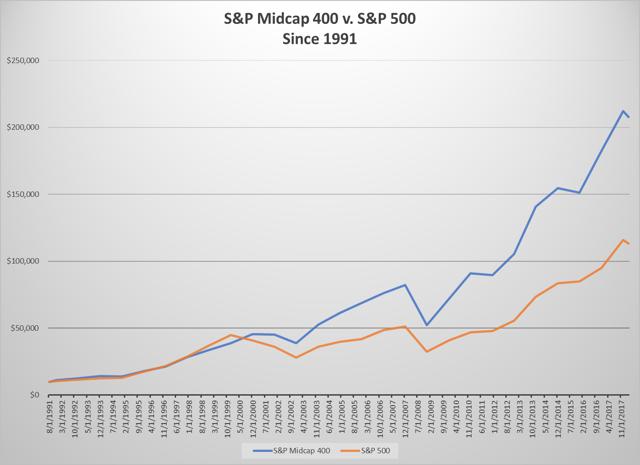 (Source: Morningstar)
As one can see, the S&P Midcap 400 averaged an annual 12.09% since 1991 (calling all Dave Ramsey acolytes). This is 253 basis points better than the S&P 500s 9.56% average.
It goes deeper than that, though. The Midcap 400 has lower volatility than the S&P 500 (15.60% v. 17.58%). If one analyzes the history of these indices over the last 26 years, they will see some pretty surprising results when the S&P 500 has a negative year.
PERIOD

S&P MIDCAP 400 TR (VALUE AND RETURN)

S&P 500 TR (VALUE AND RETURN)

8/30/1991

$10,000

0.00%

$10,000

0.00%

12/31/1991

$11,191

11.91%

$10,657

6.57%

12/31/1992

$12,524

11.91%

$11,469

7.62%

12/31/1993

$14,270

13.95%

$12,625

10.08%

12/31/1994

$13,762

-3.56%

$12,792

1.32%

12/31/1995

$18,018

30.93%

$17,599

37.58%

12/31/1996

$21,486

19.25%

$21,639

22.96%

12/31/1997

$28,416

32.25%

$28,859

33.36%

12/31/1998

$33,847

19.12%

$37,106

28.58%

12/31/1999

$38,831

14.72%

$44,914

21.04%

12/31/2000

$45,628

17.51%

$40,825

-9.10%

12/31/2001

$45,349

-0.61%

$35,972

-11.89%

12/31/2002

$38,761

-14.53%

$28,022

-22.10%

12/31/2003

$52,567

35.62%

$36,060

28.68%

12/31/2004

$61,232

16.48%

$39,984

10.88%

12/31/2005

$68,921

12.56%

$41,948

4.91%

12/31/2006

$76,032

10.32%

$48,574

15.79%

12/31/2007

$82,099

7.98%

$51,243

5.49%

12/31/2008

$52,354

-36.23%

$32,284

-37.00%

12/31/2009

$71,924

37.38%

$40,828

26.46%

12/31/2010

$91,084

26.64%

$46,978

15.06%

12/31/2011

$89,507

-1.73%

$47,970

2.11%

12/31/2012

$105,509

17.88%

$55,647

16.00%

12/31/2013

$140,855

33.50%

$73,670

32.39%

12/31/2014

$154,614

9.77%

$83,754

13.69%

12/31/2015

$151,251

-2.18%

$84,913

1.38%

12/31/2016

$182,618

20.74%

$95,068

11.96%

12/31/2017

$212,282

16.24%

$115,823

21.83%

3/30/2018

$207,804

-2.11%

$113,377

-2.11%
(Source: Morningstar)
Focus on the years from December 31, 1999, to December 31, 2002, 2008, and 2018 (YTD). In each of those years, the S&P 500 averaged losses of -20.13%. Meanwhile, the Midcap 400 cut those losses in half at -10.53%.
As to why this happens, I can only hypothesize. One obvious factor is the overall weighting in each index. While they are both market-cap weighted, 20.3% of the S&P 500 is dominated by 10 stocks. Meanwhile, only 6.5% of the Midcap 400 is made up of its top ten constituents. What does this mean? It means that one index is less influenced by a few constituents than the other. I also know that when disclosures state, The securities of smaller, less known companies may be more volatile than those of larger companies, the data does not necessarily support it.
Great! How Do I Invest in Mid-Caps?
As I outline where and how to invest in mid-caps, it is important to also analyze the results from 2008. As we slowly put that disaster of a year further away in our rearview mirror, I still believe it is important to remind investors how a strategy performs during a worst-case scenario. It does one no service to paint rosy pictures with results that do not illustrate down years. So, here we go.
Mutual Funds
When I research mutual funds, I prefer to limit myself to those that have 5-Star ratings from Morningstar and Lipper. Given that mutual funds are actively managed already, I will let those companies that do the research about the funds do the heavy lifting. Here is a list of companies that are top rated by Morningstar and Lipper. I limited the list to those that have a history that will include 2008.
| | | | | | | | |
| --- | --- | --- | --- | --- | --- | --- | --- |
| Investment | Symbol | 1-Year | 3-Year | 5-Year | 10Year | 2008 | Expense Ratio |
| Government Street Mid-Cap Fund | (MUT: GVMCX) | 12.80% | 10.69% | 12.32% | 9.77% | -32.90% | 1.07% |
| Hartford Schroders US Small/Mid-Cap Opportunities Fund | (MUT: HFDYX) | 7.19% | 8.74% | 13.30% | 9.49% | -32.59% | 0.94% |
| Parnassus Mid Cap Fund | (MUT: PARMX) | 6.86% | 8.82% | 11.62% | 10.27% | -29.63% | 0.99% |
| Thrivent Mid Cap Stock Fund | (MUT: TMSIX) | 11.66% | 14.15% | 15.93% | 10.86% | -40.49% | 0.72% |
| Morningstar Mid-Cap Blend Index | | 10.59% | 6.30% | 10.22% | 7.96% | -39.59% | |
(Data Source: Morningstar)
First, all of the funds outperformed Vanguards Mid Cap Index Admiral (MUT: VIMAX) for the last ten years (9.37%). That certainly does not mean for every year, but it does show that it is possible to outperform index funds over long periods of time. Of these four, I would definitely pass on Government Streets Mid-Cap Fund. Four of its top ten holdings are ETFs, and I tend to shy away from funds of funds; I dont need the added expense for something I can do on my own. For my money I am leaning toward the Parnassus Mid Cap Fund. I like its smaller downside deviation, as evidenced in 2008. It also showed positive gains in a tough 2011, and it minimized the losses suffered by other mid-caps in 2015.
Unit Trusts
These are investments that have been around since 1940 but are not often discussed. They are fixed portfolios with a predetermined maturity date. Each portfolio is based on a particular philosophy, algorithm, and analysis. Unlike mutual funds, there is no trading inside the portfolio once it is constructed. One that I do like a lot is the Invesco Mid Cap Core Strategy (UIT: IMIDCX). Using both growth and value strategies, it selects 40 companies from the S&Ps mid-cap indices. The portfolio terminates after 15 months, and one can decide at that point what to do next. If it is bought through a brokerage, the average fee is around 1.48% per year. If one wants to read more, here is a fact sheet that shows the process.
How does this strategy perform? Here are the data as December 31, 2017. Please note that annualized returns for the UIT include a 1.85% charge, which is larger than the actual annual average.
| | | | | | | |
| --- | --- | --- | --- | --- | --- | --- |
| Investment | Symbol | 1-Year | 3-Year | 5-Year | 10-Year | 2008 |
| Invesco Mid Cap Core Strategy | [UIT: IMIDCX] | 14.30% | 7.76% | 12.71% | 10.41% | -36.40% |
| Morningstar Mid-Cap Blend | | 10.05% | 6.19% | 9.90% | 8.63% | -36.23% |
| Vanguard Mid Cap Admiral | [MUT: VIMAX] | 19.25% | 9.06% | 15.41% | 8.89% | -41.96% |
(Source Data: Invesco and Morningstar)
If one believes in a true buy and hold strategy, at least for 15 months to two years, then a unit trust is an appropriate way to invest. Again, this is not an approach that will beat the index every year, but it will beat the index over long periods of time.
Just as an FYI, in researching unit trusts, I found that they are quite prevalent in the United Kingdom and New Zealand. It would be great to research that one day.
Stocks
Now that we suggested hunting with a bomb (mutual funds), and a shot gun (unit trusts), it is now time to hunt with a rifle. I have three stocks worth recommending, and the data to support the decisions.
Skechers USA Inc. (NYSE:SKX) Skechers earnings growth rate is 80% over the last five years, and its sales growth rate is just north of 20%. I know it would be unreasonable to assume that kind of growth to continue, and Skechers warned against that when they forecasted that sales would only grow 10% year over year for the upcoming quarter, and earnings would limit their growth to 6.5%. Shame on the sellers who did not understand the press release where it was stated, The estimated quarterly sales includes an expected shift in shipments from the second quarter to the back half of the year for several key international distributors and domestic accounts. This was not a warning that Skechers was in trouble, it was just a statement that its sales would not necessarily fit in nice and neat quarters. In my opinion, it was a financial non-event.
Analysts still project earnings to grow to $2.35/share by the end of 2019. If that happens, then Skechers should be worth $53/share at its current P/E of 22.54x. The question is whether it can grow its earnings to that level. I guess one must ask whether it can appreciate back to $36/share in the next 12 months to justify the risk. I do, and I believe people will still buy their shoes, so I am buying the stock at $29/share, and added 83% to my position.
Ubiquiti Network, Inc. (NASDAQ:UBNT) – Ubiquitis earnings have been growing at an even faster rate (94%), and the analysts agree that it should continue to grow, though that growth will subside to more reasonable levels. The company itself puts its current growth rate at around 30%. Still pretty good, and one that should continue over the next five years. What is driving this growth? Enterprise technology puts the companys products in a strong position. The global demand for wireless connectivity and the equipment it requires will not abate in the next few years. Assuming a historical P/E of 24.24x, I have this company pegged for $178/share in five years. That easily more than doubles the current price of $71/share. Of course, all of this assumes a 33% growth rate in earnings too. I am willing to take that risk.
Williams-Sonoma Inc. (WSM) – This is strictly a dividend play for this housewares company. WSMs dividend has been growing at 11.84% for the last five years, and they just handed out a 10.3% pay raise for the most recent quarter. Right now, their payoff is right at 43%, and most analysts have their earnings projections, at 19.7% over the next few years, supporting further growth in the dividend.
I just added this to my portfolio. I like the 3.5% dividend, and assuming a dividend growth that regresses to be about equal to its required rate of return of 10.1%, I am willing to take the risk on this 3.5% yielding stock. With its history of rising dividends over the past few years, I like my chances with this one.
Conclusion
I showed you several ways in which you can invest in mid-cap stocks. I feel so strongly about this, that I have one of my retirement accounts invested exclusively in a mid-cap mutual fund. Given that we live in an era of strategic allocation models, at the very least, invest 20-25% of your all equity portfolios in mid-cap stocks. You will be glad you did. Of course do your own research, and I hope these suggestions help.
Disclosures
Here are a few recommended disclosures:
Past performance is not an indicator of future performance. This post is illustrative and educational and is not a specific offer of products or services. Information on this blog is not an offer to buy or sell, or a solicitation of any offer to buy or sell the securities mentioned herein. Information presented is believed to be factual and up-to-date, but we do not guarantee its accuracy and it should not be regarded as a complete analysis of the subjects discussed. All expressions of opinion reflect the judgment of the authors as of the date of publication and are subject to change. Investments in individual sectors or companies may be more volatile than investments that diversify across many industry sectors and companies. Certain sectors of the market may expose an investor to more risk than others. Diversification does not assure or guarantee better performance and cannot eliminate the risk of investment losses.
I will wish you luck, and be happy.
Disclosure: I am/we are long SKX, UBNT, WSM.
I wrote this article myself, and it expresses my own opinions. I am not receiving compensation for it (other than from Seeking Alpha). I have no business relationship with any company whose stock is mentioned in this article.