The cloud over Tesla continues to darken.
Morgan Stanley analyst Adam Jonas, a one-time ardent bull, continues to wave the caution flag, slashing his price target due to troubles in the electric car maker's production process for the Model 3 sedan.
"The challenges in ramping up Model 3 production reflect fundamental issues of vehicle design, manufacturing process and automation levels that can weigh against the profitability of the vehicle," Jonas wrote in a note to clients. While Tesla management believes the Model 3's margin falling below the company's 25 percent target will prove to be temporary, Jonas said the headwinds are more structural.
Once a very bullish voice for Tesla, Jonas has now had an equal-weight rating on the stock for almost a year. He cut his price target by nearly 23 percent to $291, below the average of $310.
It's the first time Jonas has held a price target below $300 since January 2017. He now expects the company's long-term auto gross margin to hover around 27 percent, down from an earlier estimate of 34 percent.
And despite the company's claims that it would not need to raise money, Jonas raised his estimate for Tesla's capital raising to $3 billion from previous $2.5 billion, which he continues to expect in the third quarter of this year.
After a rough start to the week — Tesla shares closed down 3 percent Monday after Chief Executive Officer Elon Musk announced a "thorough reorganization" — Jonas' latest call is further weighing on the stock today, with shares down 2.6 percent in pre-market trading.
Plunging Price
Morgan Stanley's price target for Tesla cut to the lowest level in 16 months
Source: Bloomberg
.chart-js { display: none; }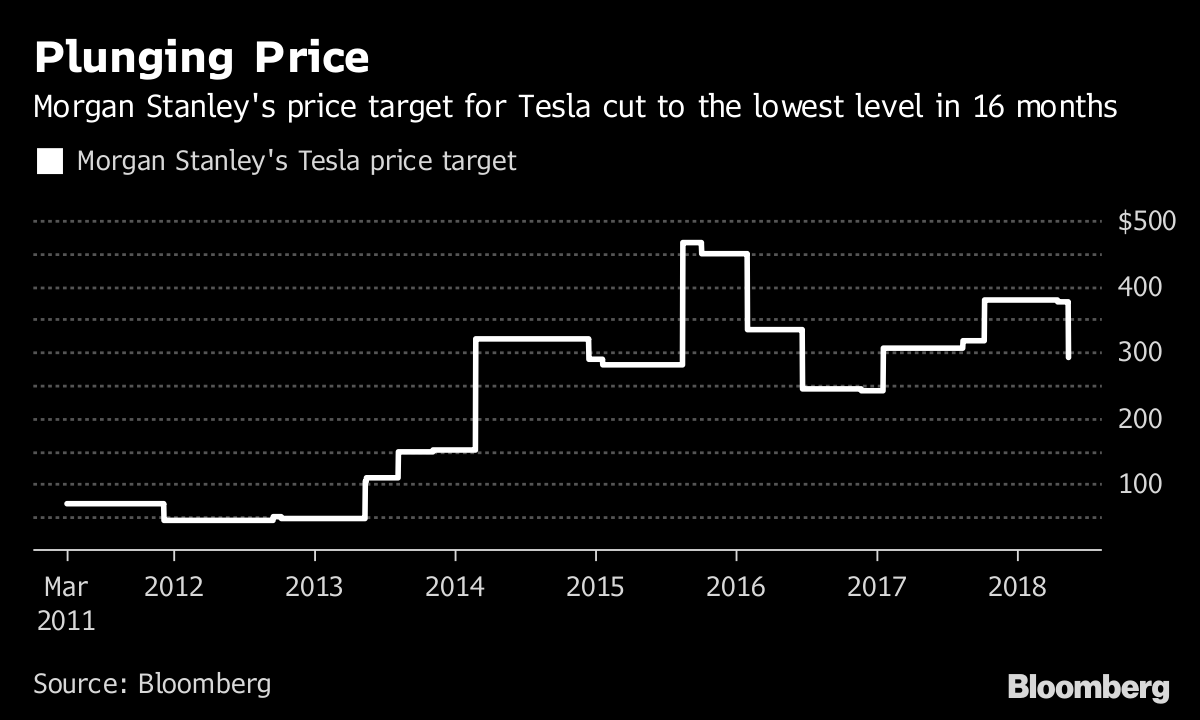 — With assistance by Brandon Kochkodin