Unjustified Sell-down Post-Q1 2018 Results Announcement
Teva Pharmaceutical (TEVA) reported market-beating Q1 2018 results before the market opened on Thursday. While its share price expectedly gained as much as 8 percent in pre-market trading and opened up 3.5 percent from the previous days close. Unfortunately for the longs and somewhat puzzling, it eventually ended the day down 4.4 percent. Besides the better-than-expected income statement, there were more positives revealed during the earnings call. As such, I believe the share price weakness post-results is unjustified. Let me elaborate.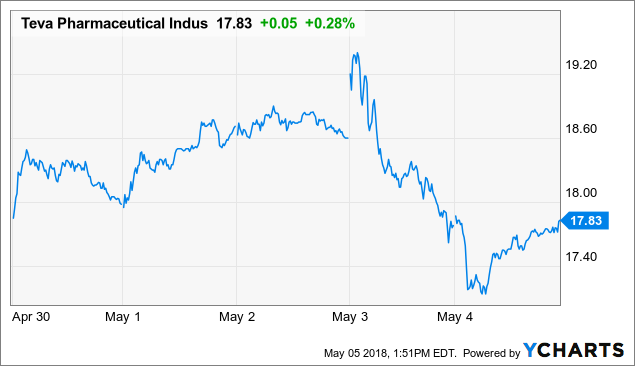 TEVA Price data by YCharts
Market-Beating Q1 2018 Results
Teva's Q1 2018 revenue was $5.1 billion, down 10% or 15% in local currency terms, compared with the same period last year. K氓re Schultz, Chief Executive Officer at Teva, attributed the weaker revenue primarily to the divestment of businesses, generic competition to Copaxone, and finally, to the unabated adverse market dynamics in the US generics market. Sales of Copaxone fell 40 percent in the US to $476 million from $797 million in the first quarter of 2017. Nevertheless, Wall Street had already factored in a revenue decline and Teva managed to beat the consensus forecast by $270 million or around 5 percent. Its Q1 2018 EPS at $0.94 also surpassed consensus estimates by $0.28.
Cash Flow Improvements & Debt Reduction
Teva's Q1 2018 free cash flow was $1.9 billion compared to $0.3 billion a year ago and was double that the prior quarter (Q4 2017). Michael McClellan, Executive Vice President and Chief Financial Officer at Teva, stated that the improvement was mainly due to the proceeds that came in from the working capital adjustment with Allergan (NYSE:AGN) and the legal settlement with Rimsa, compared to the adverse situation a year ago where there were payments for legal settlements including the FCPA. Teva also received some proceeds from the women's health divestiture outside the U.S., resulting in total cash generated of $2.5 billion for the quarter ending March 2018. A reduction in CapEx helped in the higher free cash flow.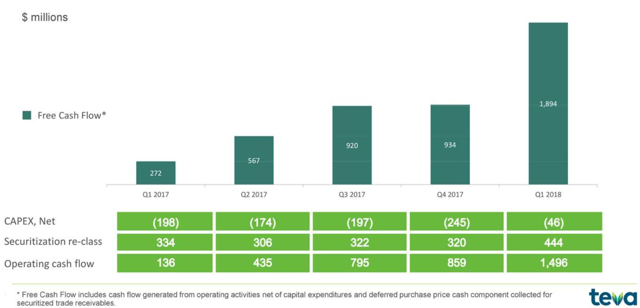 In Q1 2018, Teva's gross debt dropped $1.7 billion to $30.8 billion from $32.5 billion a quarter ago. As its cash holdings increased $0.4 billion from Q4 2017, its net debt declined $2.2 billion to $29.3 billion from $31.5 billion a quarter ago. Although its debt level stays relatively high, Teva does not appear to have much difficulty extending the maturities of its debt. In March, Teva was able to increase the size of its offering of senior notes from $3.5 billion to $4.5 billion. Teva only has around $2 billion worth of debt due next year.

(Source: Teva's 1Q 2018 Earnings Call Slides)
2018 Guidance Revised Upwards
What should sound like music to the ears of shareholders is the all-rounded upward revision to Teva's 2018 outlook from what was announced just less than three months ago. I am particularly intrigued by the improved guidance for free cash flow to $3.0-3.2 billion in the latest update or $400 million higher than what was guided in February. That's an increase of 15.4 percent while the revenue and EBITDA forecasts were only adjusted upwards by 1.1 percent and 4.1 percent, respectively.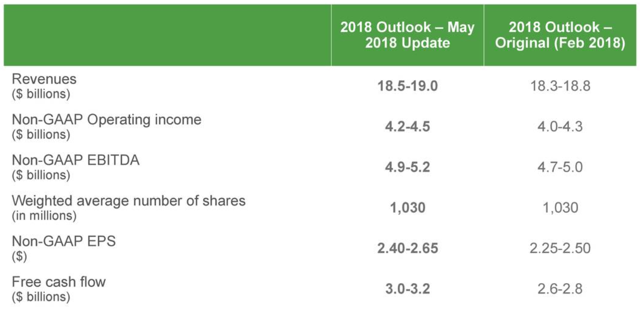 (Source: Teva's 1Q 2018 Earnings Call Slides)
The revenue outlook improvement, albeit just 1 percent higher, is itself interesting as this is happening even after the launch of Teva's new migraine treatment fremanezumab has been delayed. While K氓re Schultz revealed in the February 2018 earnings call that fremanezumab "basically has insignificant revenue" in the guidance for 2018, that was still stated in the "hope" that a launch could be "some time in the middle of the year". Now, with the launch likely delayed till late in the year or even the middle of next year, any contribution from fremanezumab would be much further diminished. Note that K氓re Schultz said he was expecting an approval and launch before the end of 2018.
Conclusion
Fears of generics competition on Copaxone is perhaps overblown given that K氓re Schultz revealed Teva's treatment for multiple sclerosis has managed to maintain its market share "very nicely" in the U.S. which was "really very steady" at around 85 percent of the 40-milligram marketplace. While the reduction in price likely played a large part in defending its position, the fact that it managed to maintain that high level of market share does indicate some level of stickiness of the drug. K氓re Schultz admitted to further pricing pressure after the availability of the second generic 40 milligrams in the marketplace later in the year. However, the impact has already been factored into the 2018 guidance which incidentally was improved over that announced in February 2018.
With regards to the delay in the launch of fremanezumab, analysts had apparently factored that in already when Teva revealed the extent of the issue in the Q4 2017 earnings call. Evercore ISI analyst Umer Raffat said then that an approval decision could be delayed until the first half of next year. Brendan O'Grady, Executive Vice President, North America Commercial at Teva, was sanguine over meeting the 2020 contracting cycle despite the delay.
"I think that if we launch in the second half of 2018, we'll be there on time for the 2019 formulary cycle. We've payers are aware of where we are. They've been asking questions. So, I think we'll be right in the mix with everybody else. My expectation is that payers will wait until all three products are on the market before they make their formulary decisions for 2019." – Brendan O'Grady, Executive Vice President, North America Commercial, Teva (1Q 2018 earnings call)
Some market observers had attributed the post-result selling to the sale by Allergan of its remaining 34 million shares stake from the Actavis transaction. After all, Allergan had just in end-April reiterated its intention to do so. If that was indeed the case, then investors should be thankful to Allergan for the opportunity to add to their positions or start one at a price lower than before the Q1 2018 earnings release when more unknowns were present.
Meanwhile, investors would be pleased to know that the consensus price target for Teva has been raised from $17.81 a share a month ago to $18.15. This is a sign that Wall Street has a generally positive view following the earnings announcement.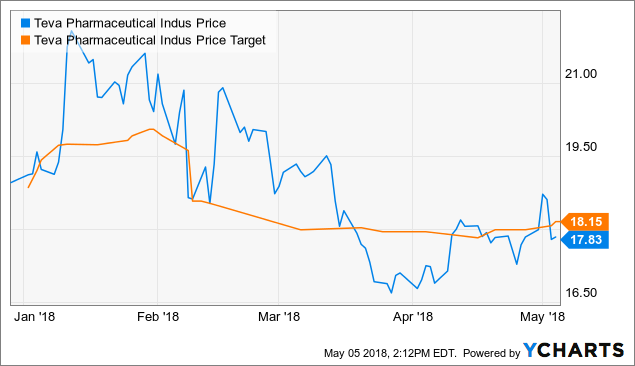 TEVA data by YCharts
I noted in a prior article that Teva executives had been selling in the first quarter of 2018. If Teva insiders turn to become buyers instead of sellers as they have been in the past months, that would be a clear signal that investors should follow.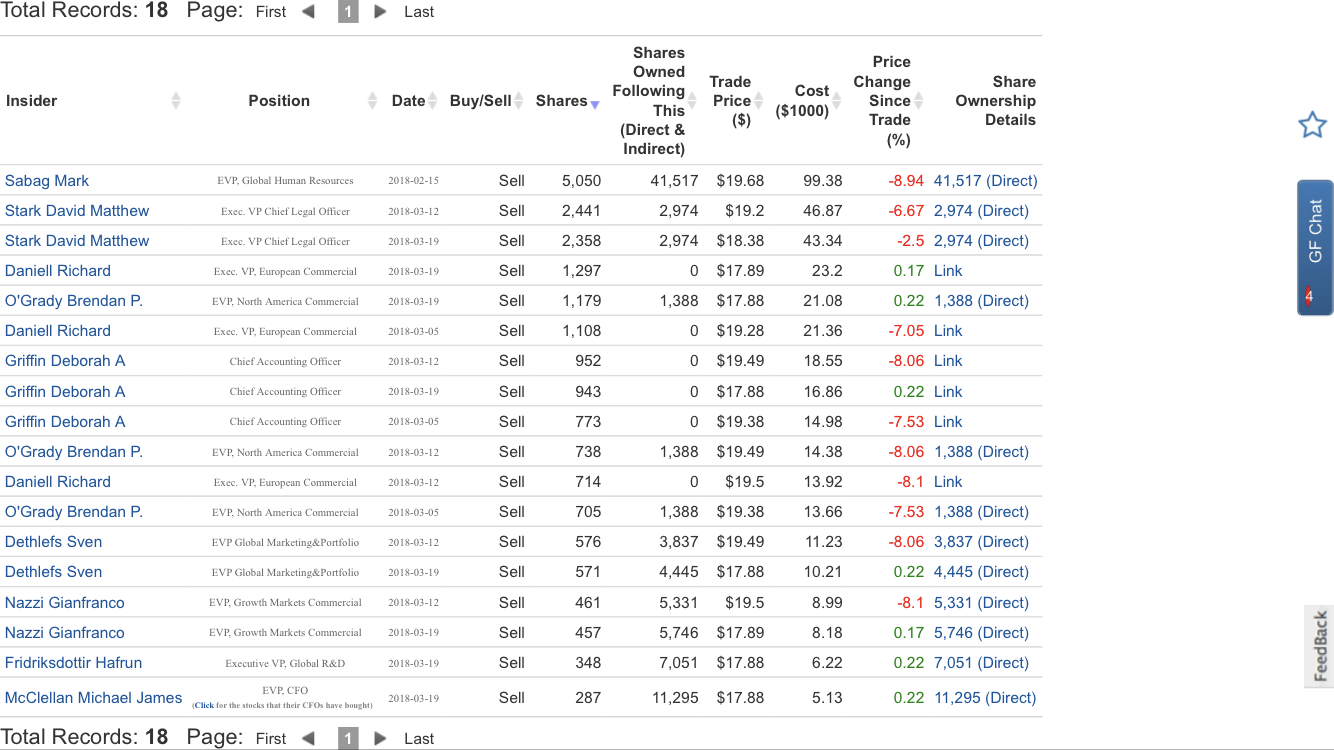 (Source: GuruFocus.com)
What's your take? Please freely share your thoughts, let me know if you found this article useful or provide your feedback in the comments section.
Author's note: Thank you for reading. If you would like a refreshing take on stocks that you own or are interested in, try looking here. Besides US companies, I cover a number of Asian stocks as well. If you wish to be informed of my new ideas via email so that you have time to read them before the articles get locked behind a paywall 10 days from publication, please select "Receive email alerts" when accessing on a desktop computer.
Disclosure: I am/we are long TEVA.
I wrote this article myself, and it expresses my own opinions. I am not receiving compensation for it (other than from Seeking Alpha). I have no business relationship with any company whose stock is mentioned in this article.