The jobs report whiffed on expectations, coming in at 157,000 versus expectations of 192,500. However, the last two months were revised higher, so perhaps this report will be as well. Either way, investors are shrugging off the miss, as the major indices grind higher. Here are our top stock trades going into next week:
Top Stock Trades for Monday #1: GoPro (GPRO)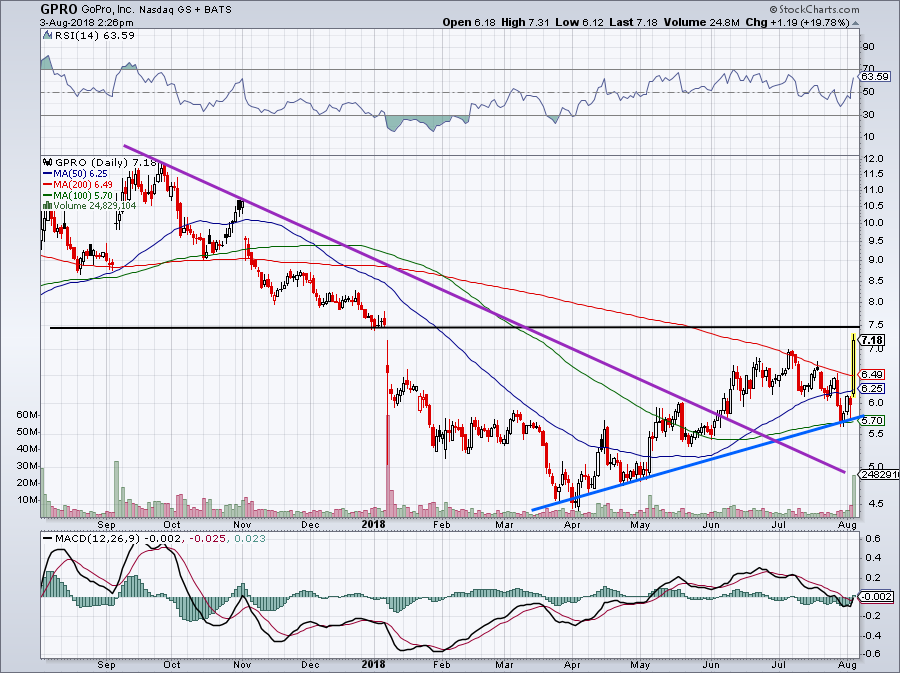 Shares of GoPro (NASDAQ:GPRO) exploded about 20% Friday after the company beat on earnings per share and revenue expectations.
The stock burst off uptrend support (blue line) and through the resistance-causing 200-day moving average. Now though, GPRO faces potential gap-resistance at $7.50 Above that and $8 could provide trouble too.
I would be more inclined to take profit in GoPro rather than get long after Friday's move. The one caveat would be a pullback into the 200-day. If it acts as support, bulls can take a shot on the long side.
Compare Brokers
Top Stock Trades for Monday #2: Activision Blizzard (ATVI)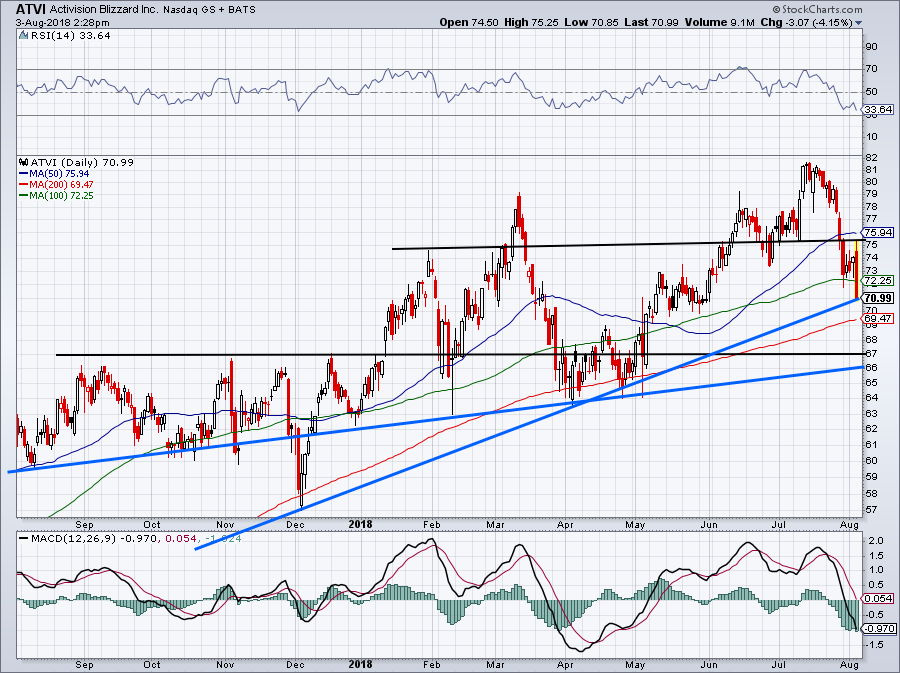 Activision Blizzard (NASDAQ:ATVI) also reported earnings, but isn't having as good of a day as GoPro. Shares initially rallied to $75, but are falling now. Will trend-support come into play near $71?
It's drawn on the chart, but it's questionable in my eyes. Activision and others should do well in the second half of 2018, so we do want to buy on dips. But there may not be a rush to buy the stock.
Still, this trend-line is somewhat suspect. The 200-day has been a better buy signal, while a dip down into the upper-$60 should really stabilize ATVI stock.
Compare Brokers
Top Stock Trades for Monday #3: Take-Two (TTWO)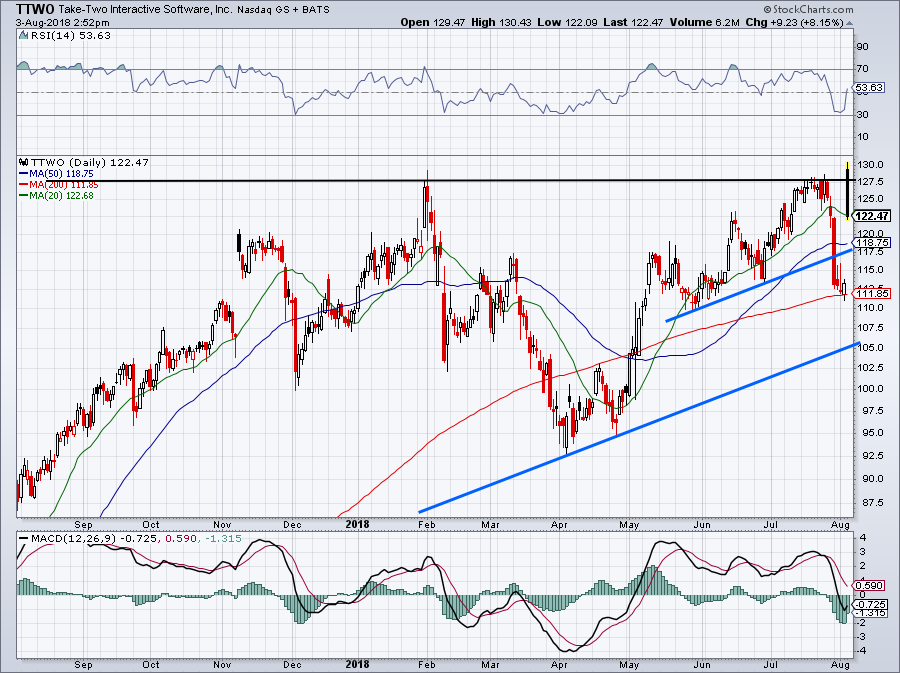 Like ATVI, Take-Two Interactive Software (NASDAQ:TTWO) also reported earnings on Thursday after the close.
Interestingly, we covered TTWO right after it reported, when it was rallying to about $123 in after-hours trading. We said the 20-day moving average could act as resistance, but as long as TTWO was over the 50-day and prior trend-line support, investors could stay long.
But instead, TTWO opened up near $130 and just over resistance. The strength faded quickly and ironically, the 20-day is actually acting as support. Anyway, what now?
Over the 20-day and bulls can stay confident in TTWO. Below and the 50-day needs to hold. If it can, TTWO is likely heading back to the 200-day moving average.
Compare Brokers
Top Stock Trades for Monday #4: Alibaba (BABA)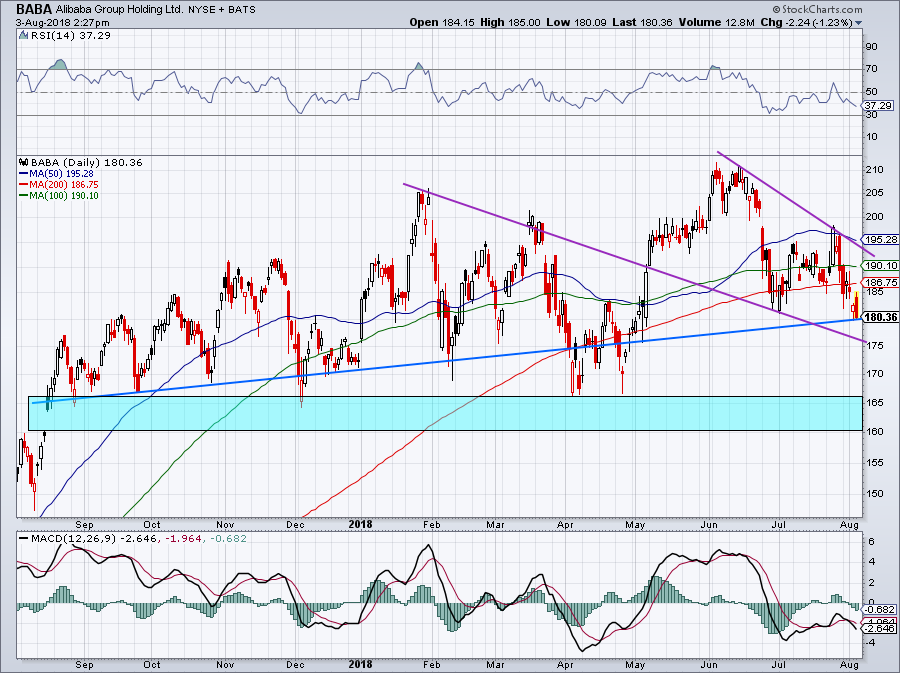 Chinese internet stocks have been under pressure and Alibaba (NYSE:BABA) is no exception.
There's a small prior uptrend (blue line) from last fall that could support BABA near current levels. But as long as tensions are elevated between the U.S. and China, shares will probably stay under pressure.
Given that BABA has been trending lower, I would rather buy on a decline down toward $175. It doesn't hurt to be conservative, as we'd rather dodge losers than pick up small winners. It's a similar strategy to ATVI, since there's not a high-probability success rate for the nearby trend-line compared to other levels. That's not to say the trend-lines won't work — after all, it's not a 0% probability — it's just not high enough for me to risk my own dollars.
Should $175 fail, $160 to $167 should hold up as support. A wide range for sure, but keep in mind, this is a blue-chip Chinese company.
Compare Brokers
Top Stock Trades for Monday #5: Shake Shack (SHAK)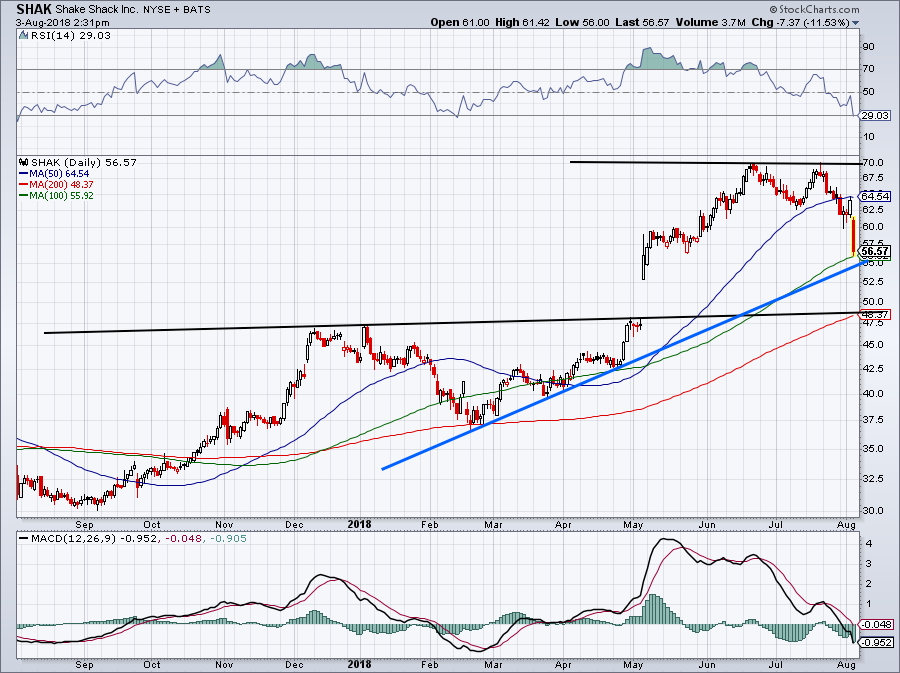 Shake Shack (NYSE:SHAK) has trend-lines lining up with its moving averages, which is great for traders.
Resistance at $70 is clear but bulls can take a solid risk/reward long position near current levels. They can stop out if uptrend support (blue line) and the 100-day moving average fail as support.
If it does fail, a decline to the $47.50 gap and the 200-day moving average near $48.50 are on the table.
Bret Kenwell is the manager and author of Future Blue Chips and is on Twitter @BretKenwell. As of this writing, Bret Kenwell did not hold a position in any of the aforemen