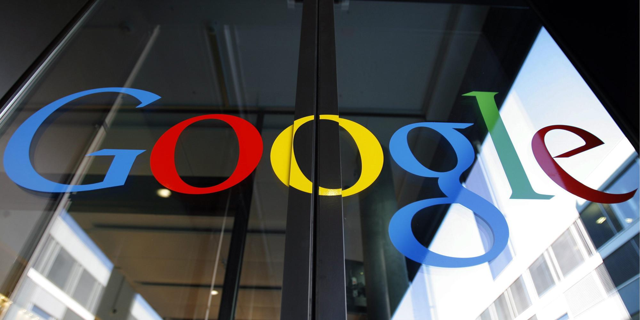 Google's (GOOGL) (NASDAQ:GOOG) stock has surged over the last year, gaining approximately 37%. Even though this has occurred, Google's forward PEG of 1.63x is still attractive for such a remarkable company and brand. I believe there remains additional upside for the stock given the following 10 reasons:
1. Google's Impressive Growth Trajectory
For Google, everything is heading in the right direction. Over the last 3 full fiscal years, Google increased revenue by 63% (CAGR of 17.6%). Earnings have also been strong. Analysts expect Google to end the year at $32.21/share, which represents growth of 15.5% over 2016.

Data Source: Google Finance YTD equates to 9 months. 2. Google is a Free Cash Flow Machine
Free cash flow is often the first thing I look at in any stock. It dictates everything a company can do and is the basis for other factors on this list (balance sheet, acquisition potential, etc.). For a little perspective, consider that Google's $25.8 billion in free cash flow last year could easily swallow up many companies listed on the S&P 500 (in terms of market capitalization).

3. Google's Massive Cash War Chest
Google's performance has led to an incredible amount of cash, which has swelled to $100.3 billion as of last quarter. Only Apple (AAPL) has more. Microsoft (MSFT) actually holds more cash ($138.4 billion) on its balance sheet, but also has a lot more debt ($85.5 billion), so Google has a far superior net cash position (see table below). As I'll discuss later, this gives Google nearly unlimited acquisition possibilities.
4. Advertising Dominance
Digital advertising is really a two-pony show these days with Google and Facebook (FB) controlling over half of the market. I also like the trends. As you can see by the charts below, market shares of global digital advertising and total media advertising are trending upwards. This should help Google continue increasing its revenue on just advertising alone.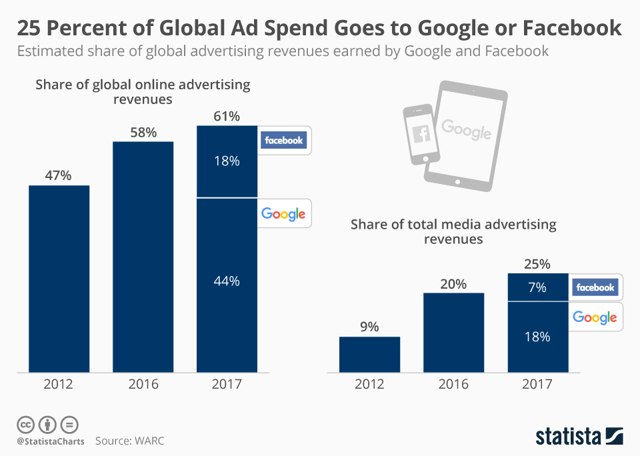 5. It's Not All About Advertising
In the future, Google will become more diversified in its revenue base. This transition has already begun with its "Other Revenue." I especially see a huge opportunity with cloud offerings given Google's existing consumer base from Gmail & Google Drive. As I'll discuss later, Google's "Other Bets" could also spawn a big revenue generator in the future.

"Google Other Revenue" consists of apps, in-app purchases, hardware sales, hardware, licensing-related revenue; and cloud offerings. "Other Bets" consists of businesses such as Access, Calico, CapitalG, GV, Nest, Verily, Waymo, and X. Revenues from the Other Bets are derived primarily through the sales of internet and TV services through Google Fiber, sales of Nest products and services, and licensing and R&D services through Verily. 6. Reasonable Valuation
Google doesn't trade cheap, there's no doubt about that. However, I do believe it's priced fairly. Relative to peers, Google trades at a premium in terms of forward earnings, but it's also expected to grow at a faster rate. That yields a PEG ratio of 1.63, which is reasonable relative to other large-cap technology stocks.

Data Source: Yahoo Finance 7. History of Earnings Beats
What gives me even more comfort in Google's valuation is the company's ability to consistently out-perform analyst expectations, which includes earnings beats for 6 out of the last 8 quarters (source: Street Insider).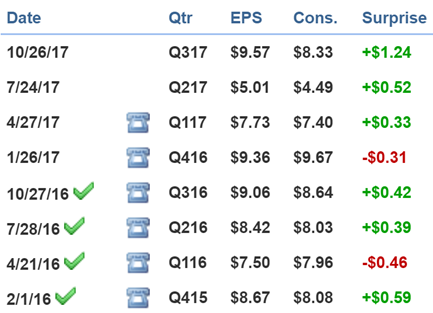 8. New Tax Legislation
Google likely won't benefit much from lower corporate tax rates given its effective tax rate was already pretty low. However, new cash repatriation taxes will help Google, which will allow them to move offshore cash back to the U.S. at a rate of 8% to 15.5%. Google holds a large amount of cash offshore and this new legislation will give huge savings relative to the old rates. This cash could be used in multiple ways, but what's most compelling to me is making a large domestic acquisition.
9. Wall Street is Bullish
According to MarketWatch, 34 out of 43 analysts recommend Google as a "Buy." No analysts recommend Google as a "Sell" with the worst rating being a "Hold." The average target price is $1,187 per share. Given the current stock price of $1,110, that's 7% upside expected.
10. The Unknown Potential
It's the unknown potential of Google that gets me really excited. As I've already pointed out, Google is fairly valued just on the trajectory of its existing business, but there's many options for added growth and upside to the stock. With a massive amount of cash that continues to get bigger every year (and virtually no debt), Google has nearly unlimited acquisition potential. Google also can build something from the ground up. Here's a list of just a few possibilities:
Google becomes an integral player in TV advertising software market. Google invests heavily in telecommunications, which could mean drastically expanding its fiber footprint or creating its own cell network. Google becomes a major player in alternative energy production. Waymo becomes the most-used self-driving software. YouTube's full potential as a medium for original content, both free and paid is realized.
All of these things I mention above are already happening, just on a small scale (i.e. Google's "Small Bets"). There's a good chance that one of these ideas spawns into something much more relevant to Google's future sales potential.
Conclusion
Google's stock price has skyrocketed over the last couple of years, but so has its performance. Google dominates the advertising sector, which is driving double-digit annual revenue and earnings growth.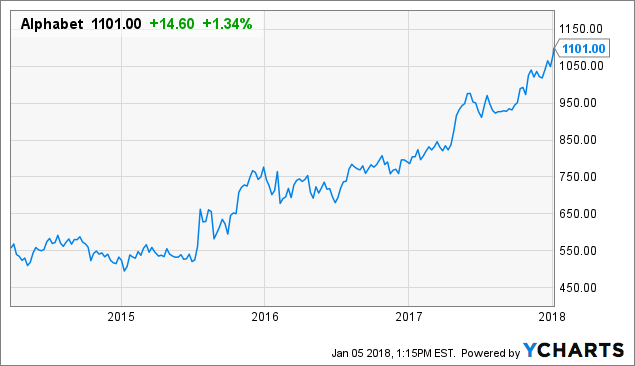 GOOG data by YCharts
Even with the price surge, I still believe Google is reasonably valued and the stock should continue pushing upwards over the next couple of years given trends in Google's increasing share of the advertising market and also its other revenue sources (i.e. Cloud, Other Bets, etc.). I also like that Google has the potential to make a huge acquisition or disrupt other markets from the ground up, which I consider to be pure upside based on its current valuation.
Disclosure: I am/we are long AAPL.
I wrote this article myself, and it expresses my own opinions. I am not receiving compensation for it (other than from Seeking Alpha). I have no business relationship with any company whose stock is mentioned in this article.
About this article:ExpandAuthor payment: Seeking Alpha pays for exclusive articles. Payment calculations are based on a combination of coverage area, popularity and quality.Tagged: Investing Ideas, Quick Picks & Lists, Technology, Internet Information ProvidersWant to share your opinion on this article? Add a comment.Disagree with this article? Submit your own.To report a factual error in this article, click here